Duo earns state recognition in 4-H
This article submitted by Michael Jacobson on 10/04/00.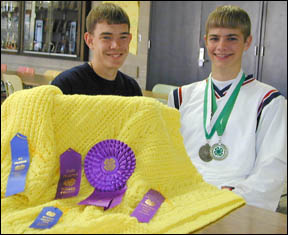 Two members of the Koronis Eager Beavers 4-H Club returned from the Minnesota State Fair a month ago with top honors in their respective events. The events - fashion review and needle arts - typically attract more female entries than male, but both of the local winners crossed these gender lines to win.

Cody Wiig (at right), a senior at Paynesville Area High School, placed among the top seven at state in fashion review, and Scott Thompson (at left), a junior, earned a grand champion ribbon for the afghan that he knitted.

Wiig described the requirements of his event as "get spiffed up, go out there amongst a crowd of girls, and strut your stuff."

Of the 75 participants in fashion review at state, only seven were male. Wiig attributed his success not to his gender but to his carefree attitude. "I think they were just looking for someone who was calm and relaxed," he explained. "I could have cared less if I won, so I suppose that helped."

Contestants were judged on appearance, poise, and fit of their clothes. "Most people plan a lot for (the event)," said Thompson. "(Cody) didn't."

Wiig didn't search for the "right" outfit and didn't fret about his appearance. In fact, when he noticed the shirt he was going to wear had a hole in it, he simply picked another one out of his closet.

That calmness separated him from the rest of the field. Most of his competitors were so nervous that they shook.

The contestants also had to describe the care of the clothes they were wearing. Another contestant had written a cue card with all the information on it. Wiig just read his tags ten minutes before the event.

Wiig spotted the event last year at the county fair and decided that he could do it. He plans to compete again at the county fair next year. Since he plans on attending college, he doesn't know if he will be able to compete at state again next year.

Mary Loftness, Meeker County Extension Educator, who oversees 4-H in the county, said gender lines are being blurred more and more. These days, you will see girls entering shop project, which used to be the exclusive domain of boys.

Loftness said her goal this year was to have a boy compete in fashion review at county and earn a state trip. Having Wiig finish among the top seven at state was icing on the cake.

"Cody and Scott are really unique in taking these projects to state," Loftness explained, "and being willing to be recognized for these projects."

Thompson comes from a needlework family. His mother, Gail, taught him to knit five years ago. "She taught me by making a simple scarf, and then I made something harder each year," he said.

In 4-H competition since then, Thompson has entered baby slippers, a baby afghan, and full-size afghans.

Scott said his mother knits quite a bit, and she has taught all the children to do some type of needlework. Sam, a tenth grader, does cross-stitch; Peggy, a ninth grader, knits and does crotchet; and Bill, a fifth grader, knits. At the county fair, Scott and Peggy took the top two spots in needlework. Scott had his bright yellow afghan, and Peggy with a doily that she crotched.

Scott said it took him about a month to finish his afghan. He, however, spread the work over two months. "I started at the end of school and worked on it occasionally. Then the last month, I really crammed," he said.

The night before the county fair Scott stayed up until 4:30 a.m. to finish his afghan. He watched all four Star Wars movies while finishing his knitting.

His afghan earned the Grand Champion honor against 40 other needlework entries at the county fair. Then it earned a purple ribbon, the top honor, at the state fair against another field of 40.

Judging in the needlework is divided equally on the participant's knowledge and the exhibit.

Thompson normally gives his knitted item to a family member or a friend. He plans to give his award-winning afghan to the former intern pastor at his church, Nordland Lutheran.

Next year, he plans on making another afghan to take to the fair, but will probably choose a more difficult pattern.

Wiig is the son of Paula Geier of Paynesville and Scott Wiig of Rosemount. Thompson is the son of Rick and Gail Thompson of Paynesville.
---