Property tax reform put into law last summer will have a large impact on the school property tax levy for 2002.

The Paynesville Area School Board approved a levy for 2002 on Tuesday, Sept. 25, that showed drastic reductions for taxpayers from a year ago.

Because the state will assume the general education funding in 2002, that levy will drop by over $1.4 million. (See chart.) In all, the local levy would decrease by $1.2 million, a drop of nearly 56 percent.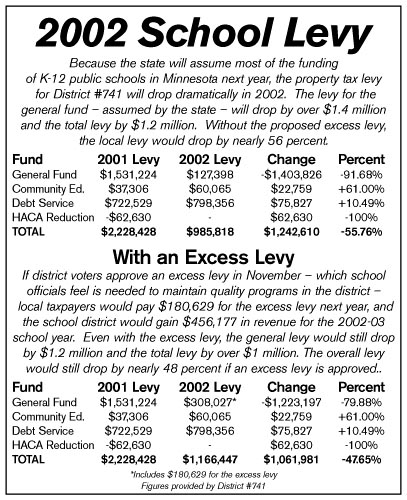 While the extra state aid means a large overall drop, some district levies will increase slightly in 2002. In the general fund, taxpayers will pay $127,398 in for the health and safety, career/technical, and crime levies. The health and safety levy will pay for some of the construction work to improve the ventilation in the high school basement and locker rooms. The crime levy will pay for the new security cameras in the middle and high schools.
The community education levy - whose general formula is based on the district population - has increased because the total population in the district is up to 6,046, an increase of 200 people, according to Matt Dickhausen, community education director.
The Legislature also approved a new levy for afternoon enrichment activities, and District #741 will take advantage of this $1.85 per pupil unit levy, which will provide another $11,000 for community education.
District taxpayers will pay over $75,000 more for debt reduction in 2002 than in 2001. Money in debt service goes to pay off the district's bond issues, most recently the new auditorium and fitness center.
If the proposed excess levy is passed by district voters in November, an additional $180,629 would be put on the local property taxes for the 2002 levy. Even with this levy, the general fund levy would drop by $1.2 million and the overall levy by more than $1 million.
The total local levy, consequently, would be reduced by almost 48 percent instead of 56 percent.
"We're asking taxpayers to give up a percentage of their reduction," said board member Deb Glenz.
Taxpayers would pay $180,629 for the excess levy in 2002, and the school district would receive $456,177 for the 2002-03 school year.
---
Contact the author at paypress@lkdllink.net • Return to News Menu
Home | Marketplace | Community
---