Nine candidates are vying for four open spots on the school board. Throughout the month of October, the candidates and their positions on some key educational issues will be featured in the Press. The election is on Tuesday, Nov. 6, from noon to 8 p.m. in the west lobby of Paynesville Area Elementary School.

Today's Questions:
(1) Why are you interested in serving on the school board?
(2) What leadership strengths would you bring to the school board?

Bob Stoneburner


Bob Stoneburner, 50, earned his bachelor's degree from Temple University in Philadelphia and his juris doctor from William Mitchell College of Law in St. Paul. He is a self-employed attorney with his own law office in Paynesville since 1981.
He and his wife, Jane, have four children: Ryan, 22, a senior at Mankato State; Lynn, 20, a junior at South Dakota State; Laura, 16, a junior at PAHS; and Tom, 14, an eighth grader at PAMS.
(1) With two children still in the school system, I am vitally interested. We need to maintain and develop high quality educational programs. We must operate within our financial means. Having started, owned, and successfully operated a small business in this town for 20 years, it seems right to give back to my community by serving on the school board.
(2) My occupation requires leadership each and every day, in one cause or another, and I give it my very best. Fighting and winning our share of uphill battles in court has made me a leader. Perhaps most of all, the desire and ability to advocate what I believe is right. I would be a vocal board member.

Tami Stanger


Tami Stanger, 32, is a 1987 graduate of Paynesville Area High School. She earned a bachelor of science in biology-medical technology and works as a medical technologist at the Paynesville Area Health Care System.
She and her husband, Dean, have three children: Trey, 8, a second grader at PAES; Allie, 4; and Gavin, 2.
(1) To ensure quality education for my children as well as all children in the district. To look for other options in our current financial crunch that don't require the district to make more budget cuts. To see that post-secondary credits are a reality at our high school.
(2) I am currently the assistant laboratory supervisor at PAHCS. I feel I am well equipped to make informed decisions that affect other people as well as myself. I see loyalty, fairness, and integrity as important leadership qualities that I strive for.

Sandy L. Spanier


Sandy L. Spanier, 39, graduated from Alexandria High School in 1980 and went to the Model College of Hair Design. She has also taken management training through Great Clips, Inc. She is a school bus driver and a subsitute aide and kitchen worker at the middle school.
She and her husband, Randy, have four children: Josh Schreifels, a 12th grader; Peter Schreifels, a 10th grader; Cory Spanier, a sixth grader; and Clay Spanier, a kindergartner.
(1) I am here for the kids, to make sure they get a good education with what we have and can offer. After all, they are our future.
(2) As of now, I need to get to know the people on the school board, before I can begin with mine.

Allen Schmidt


Allen Schmidt, 40, graduated from Paynesville Area High School in 1979. He is the live haul supervisor for Jennie-O Turkey Store at their Melrose location.
He and his wife, Lori, have four daughters: Sarah, a ninth grader at PAHS; Rachel, a seventh grader at PAMS; Nicole, a fifth grader at PAES; and Megan, a second grader at PAES.
(1) I believe in giving back to the community in which you live. I think that the school board has been very balanced in the past and has had to make some very difficult decisions at times, even if those decisions might have been unpopular. I believe the goal is to maintain high quality education and to help our children excel. I feel that serving the school board would give me the opportunity to help ensure a continuing quality education for my own and other's children.
(2) I have served on our church board for over 20 years and was also on the Meeker Cooperative Rural Electric Association board for over 10 years. In my years with Meeker Cooperative, I twice served on the committee negotiating union contracts. I believe I'm a good listener and am able to make good decisions based on the facts and not emotions.

Steve Olson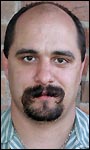 Steve Olson, 27, is a 1993 graduate of Paynesville Area High School. He spent three years at college and earned a degree in auto mechanics from Ridgewater College in Willmar.
He served on student councils in high school and college and has served on the curriculum committee for District #741. He is single and works as a RV technician for Ted's RV Land doing road service work.
(1) I've always enjoyed education since grade school. I feel it is time to be directly involved with my community's education. Hopefully it will be the future home of my future family.
(2) I think that my involvement with education since my time in high school through college have all worked together to strengthen my natural leadership abilities. In addition, I have the ability and willingness to speak up.

Don Kelm


Don Kelm, 43, graduated from Eden Valley High School and attended vocational school for one year to study shoe repair. He farms and is the owner/operator of Kelm's Shoe Repair.
He and his wife, Irma, have two children: Donald Jr., an 11th grader at PAHS; and Jody, an eighth grader at PAMS.
(1) I feel our school board needs to change their priorities. I know we can't expect to change everything, but let's use common sense on issues. Our school has financial problems; I'd like to have the chance to amend these problems.
(2) Common sense.

Gary D. Heineman


Gary D. Heineman, 61, holds a masters of science in education. He was the principal at PAES for 27 years. He currently is the principal at Sts. Peter, Paul, and Michael Middle School in St. Cloud.
He and his wife, Jeanne, have six children - Kimberly, 39; Wendi, 36; Mary, 32; Jennifer, 28; Jodi, 23; and Tom Krupke, 34 - and 10 grandchildren.
(1) My reason for serving on the board is because I feel this most recent matter of budget cutting could have been avoided. Budget cutting, in almost any amount, takes its toll on staff morale. It sets up turf guarding, and many issues get in the way of best serving students.
(2) I was a District #741 employee for 27 years; prior to that, I had been in education for an additional 10 years. I am now beginning my third year in private education. With my background and knowledge of this school district and my experience as an educator I feel I have qualifications important to K-12 students.

Deb Glenz


Deb Glenz, 42, was raised in a military family and attended several schools before graduating from Duluth Central. She has run a daycare at home for the past 15 years.
She has served on the school board since 1994 and is the only incumbent board member running for re-election.
She and her husband, Michael, have four children: Michelle (23) and Julie (21), who both attend Mankato State; Ryan, 17, a junior at PAHS; and Sean, 14, an eighth grader at PAMS.
(1) I have chosen to run for the school board again for many reasons. After having served for seven years, I believe I have acquired enough knowledge of how the whole system works to be of some help as the district strives to continue our educational endeavors while facing declining enrollment and loss of revenue. I would like to be part of the process of attaining and maintaining a balanced budget. I believe we have an excellent school system in our district, and I would like to continue to be part of its improvement.
(2) I believe my greatest strength is my experience on the board. I have been actively involved in staff development, curriculum review, support staff negotiations, and staff recognition. I also serve as the board's representative to the Schools for Equity in Eduation organization. I believe this has given me a broad range of insight into the scope of needs for our school district.

Mark Dingmann


Mark Dingmann, 38, attended St. Cloud State University and the St. Cloud Hospital School of X-ray and Chippewa Valley Technical College for a degree in ultrasound. He is the radiology manager for the Paynesville Area Health Care System.
He and his wife, Kathy, have three children: Zachary, 7, a second grader; Nicholas, 5; and Katelyn, 3.
(1) I want to be a part of our school district's decision-making team and help give our students the best education possible. I believe that my management experience will allow me to bring in new ideas to help our school district get through this difficult time.
(2) I've been a radiology manager for 17 years. This has given me experience and knowledge in the following areas: preparing budgets (capital expenditures, revenues, and expenses); writing policies and procedures; evaluating and implementing many contracts of various magnitudes; following federal and state rules and regulations; public relations; and hiring personnel. I serve as a board member for the St. Louis Catholic Church parish and also coach T-ball for our summer recreation programs.
---
Contact the author at paypress@lkdllink.net • Return to News Menu
Home | Marketplace | Community
---