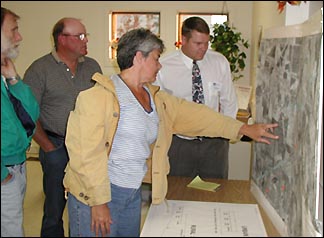 While any construction or improvement to Highway 23 in the Paynesville area may still be a long time coming, the decisions that will shape this road will be made in the next two years.

The Minnesota Department of Transportation has contracted with the engineering firm of Edwards and Kelcey to perform an Environmental Impact Statement for the highway that links St. Cloud and Willmar while passing through the heart of the city of Paynesville.

Residents looked over the map with alternate routes for Highway 23 at an open house last Tuesday.

The two-year study will update traffic counts and surveys and examine five options for the road. Two options use the existing path of the road through the center of the city. (See the shaded chart.) Three options are for bypasses around the city that would involve more extensive construction.

While no construction is planned and no construction date is set, when the study is done the best option for eventual construction will be chosen. "It's a two-year process with a fair amount of public input," said Tom Parker, the project leader for Edwards and Kelcey, at a public meeting at the Paynesville Area Center last Tuesday, Sept. 25. "Lots of study. Lots of thought. When we're done, we hope to have identified the best routes."

The study has already started with traffic counts and surveys in August and September. The number of cars were counted to yield traffic volumes, and origin-destination surveys were done to learn about the traffic patterns. (Where people started their trip? Where they were going? What stops did they make?)

This study is a follow-up to a 1997 study that looked at Highway 23 from Willmar to Richmond, according to Lowell Flaten, a MnDOT engineer in the Willmar office. At that time, the section from I-94 to Richmond was already scheduled to be expanded to a four-lane road. (Construction on this widening began this summer.)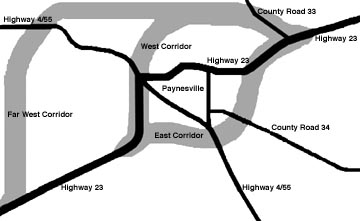 That 1997 study indicated traffic volumes from Willmar to New London that warranted a four-lane road, which is being planned right now. MnDOT expects to start construction on this portion in 2003.
That 1997 study also indicated needs for traffic improvements within the city of Paynesville.
At that time, traffic counts in Paynesville were over 11,000, like Richmond and New London. But traffic counts at the Stearns-Kandiyohi border and in Roscoe were much lower and didn't merit a four-lane road, even with projections of increasing traffic volumes for the next 20 years, through 2017.
This study, consequently, will look only at the area right around Paynesville and what either can be done to improve 23 through Paynesville or which route would be best for a bypass.
Cost is always a factor, said Flaten, but the primary purpose of the study and MnDOT's main goal is to meet the need of the road's users.
At least 80 people attended the open house at the area center last Tuesday to look at maps and hear about the study. Flaten and Parker gave a presentation and asked questions in a formal session at 7 p.m.
Public concerns included wanting to make 23 into a four-lane highway from Willmar to St. Cloud; better safety on a four-lane road; and the need for a bypass around Paynesville without improving the road to Richmond or New London.
"As a taxpayers, I think you'd be doing us a disservice to do this piecemeal," said city resident Jeff Bertram, in support of making 23 into a four-lane highway from Willmar to St. Cloud.
"If traffic volumes continue to grow on 23, you'll see another study that shows it warrants four lanes," responded Flaten, "but the '97 study did not."
Edwards and Kelcey will be organizing a local committee in an effort to get input on the project from a variety of community perspectives.
The business community, for example, will be represented by one member along the road and another member from the Chamber of Commerce, said Parker.
"You can't make a decision on one thing. All must be weighed," he said.
MnDOT will also seek city council approval to any construction plan involving Highway 23, added Flaten.
---
Contact the author at paypress@lkdllink.net • Return to News Menu
Home | Marketplace | Community
---