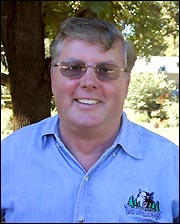 After working at the creamery in town for nearly 40 years, Norm Athmann retired as a field service supervisor on July 1.

He can still be found working two days a week for AMPI, checking milking equipment and helping with herd product improvements.

Athmann started in 1963 as a truck driver for the North American Creamery. The creamery changed hands and became known as Five Star Dairy. It later changed ownership and became part of Associated Milk Producers Inc. (AMPI). Athmann has worked as a field service supervisor for 22 years at AMPI.

As a field supervisor, he worked with seven men covering a large territory, including: Bagley, Benson, Pelican Rapids, Pierz, Spicer, and Starbuck. His job included meeting with dairy farmers and helping fieldmen acquire new accounts.

Over the years he has seen dairy herds go from 34 cows to over 1,000; and the number of dairy farms drop. Despite the loss of farmers, AMPI takes in 1.7 million pounds of milk daily today and produces 165,000 pounds of cheese daily.

When Athmann started working with AMPI, they still received milk in cans. Today, large semi milk trucks arrive with the milk.

Athmann and his wife, Marlene, have four children and five grandchildren. He enjoys babysitting especially his newest grandchild, two-week-old Allie.

In his retirement, he plans to enjoy coffee with the guys, woodworking, lawn care, and camping. He is currently planning a hunting trip with his three sons, three brothers, and nephews.

Athmann is a member of the Paynesville Lions Club, the Paynesville American Legion, and the Knights of Columbus. The pageantry of the Nobel Prizes might not be as dazzling as the Academy Awards, but for academics to even rival Hollywood in pizzazz says something.
---
Contact the author at paypress@lkdllink.net • Return to News Menu
Home | Marketplace | Community
---