Model train club helps with display at Paynesville Area Museum
This article submitted by Erin Aagesen on 9/29/99.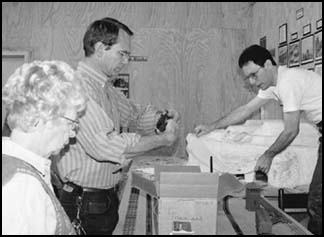 "I have a model train layout that takes up my whole basement," remarks Jim Kiser of Sartell, as he works on his newest project at the Paynesville Area Museum. "After 20 years of doing this, you collect a lot of stuff."

Jim and other area men, many of whom are fathers and sons, have a passion for trains. As members of the Minnesota Central Model Railroad Club, they meet weekly to work on model train displays.

They have been in Paynesville on and off for the last two summers to improve a train display in the children's section of the museum. Using donated model trains and simple supplies such as paint, styrofoam, and plaster, they are able to transform an empty table into a natural looking scene.

Bertha Zniewski, museum curator, said the exhibit has been part of the museum since it was located at the old Methodist church.

Curator Bertha Zniewski watches Tim Kummet and Tim Goodner work on the train exhibit at the Paynesville Area Museum.

When the museum moved to its present location on Highway 23, the display moved with it. In addition to the model train scene, the train exhibit is full of facts about the history of the railroad around Paynesville. The display houses an early train car, and has pictures relating to trains and railroads.

Zniewski appealed to the train club to give the display a more realistic look.

The group has been working on their own permanent layout since 1994. The 23' by 50' spread can be found at the Old Great Northern Train Station at the Pioneer Grounds in Albany. They meet regularly to make improvements and keep up the display.

Tim Kummet of Little Falls attempted to explain why he is involved in the club. "I've had an interest in trains since I was young," he said, "and liked doing modeling. With this group, I get to do a lot of different things with model railroads such as wiring, construction, scenery, and artwork."

For Kiser, a former art student, the appeal of the club is in meeting with people of similar interests. He says that his fascination with trains began in childhood. He recalls receiving model trains as Christmas gifts, and remembers a particular train ride that had a big impact on him. Since then, he has never stopped his hobby, and he enjoys being with others like himself.

Tim Goodner of St. Cloud is one of the five original members remaining in the group, which now has 15 members. The work atmosphere is relaxed, and it seems clear that the men are there for their own enjoyment. They have been known to lay pennies out on train tracks to flatten them as trains go by, and improvise in the production of their scenes.

"Isn't that half the fun," asks Kiser, as he tries out a new idea for the museum scene, "the experimenting?"
---