Homecoming Week at PAHS is Oct. 4-8
This article submitted by Erin Aagesen on 9/29/99.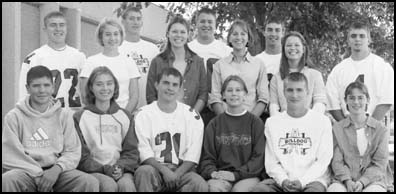 Homecoming is scheduled to take place next week at Paynesville Area High School, from Monday, Oct. 4 through Friday, Oct. 8. Various events will be taking place all week long.

Each day, there will be a theme for students to dress up. They are:
Monday: Army/Hunter Day
Tuesday: School Spirit Day
Wednesday: Halloween Costume Day
Thursday: Disco Day
Friday: Dress up/ Picture Day
Toga Day for seniors

King candidates for Homecoming'99 are: (standing, left to right) Ben Bork, Luc Trees, Josh Bork, Jeff Voss, and Josh Roemeling. Queen candidates are Erin Aagesen, Courtney Karsch, Tiff Rausch, and Tiff Haag. Not pictured is queen candidate Krysta Larson. Sitting are the class attendants, from left, Dustin Humbert and Rachel Sogge, ninth grade; Joe Nosbush and Sonja Walossek, juniors; and Eric Rausch and Sara Lieser, sophomores.

The coronation ceremony will kick off the week on Monday. It will take place in the high school gym at 8 p.m.

This year's queen candidates are: Tiff Haag, Krysta Larson, Tiff Rausch, Courtney Karsch, and Erin Aagesen.

The king candidates are: Josh Roemeling, Luc Trees, Josh Bork, Ben Bork, and Jeff Voss.

Junior attendants are Sonja Walossek and Joe Nosbush. Sara Lieser and Eric Rausch are the sophomore attendants, and Rachel Sogge and Dustin Humbert will represent the ninth grade class.

On Tuesday, the students will have a special breakfast during the beginning of first hour. In the evening, the volleyball team will be playing Sauk Centre at home, and the cross country team will run in Sauk Centre. The volleyball team will also play at Cathedral on Thursday.

On Friday, a pep fest will take place during the last hour of school. There will be relays, the cheerleaders will lead a presentation, and the pep band will perform. A powder puff football game between the junior and senior girls is also planned.

On Friday evening, the football team will play Long Prairie-Grey Eagle. The band will be doing a halftime field show with a "Sesame Street" theme. A dance will follow the end of the game, finishing off the week's festivities. It will be held outside on the tennis courts, with Mike Holtz of Q102 as the disk jockey.

"Homecoming should be a lot of fun," said student council president Bridget Mueller. "We have planned some new activities this year, such as the dance and an improved pep fest."

Student council advisor and school counselor Jackie Campbell agreed, "I hope we have a great turnout for the dance. It will be in the tennis courts this year, which is something that has never been done before."

Campbell also stressed the more traditional purpose of the week, saying, "Homecoming should be a time when students take pride in their community."
---