Nordland Lutheran Church welcomes new intern
This article submitted by Linda Stelling on 9/29/99.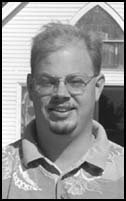 The congregation at Nordland Lutheran Church, rural Hawick, welcomed David DeMars as their new intern in September.

A native of Princeton, DeMars attended St. Cloud State University and Luther Seminary, St. Paul. DeMars and his family moved to Paynesville from Milaca where they had lived 10 years.

He feels his diverse background will make him a better rounded minister. While in college, he was undecided about his future and took classes in many areas. "I feel the Lord was preparing me for the ministry even then. I decided to enter the ministry during my senior year in college," he added. "After receiving the call, I focused on practical courses that would help me with my chosen profession, the ministry."

"I'm fortunate to have a supervisor (Pastor Keith Ainsley) who wants me to be involved in every aspect of the church," DeMars said.

DeMars will be working with the church education program, doing home visits, pastoral care, community ministry, confirmation classes, and working closely with the youth league.

DeMars said his goals for the internship and his future ministry is to become a better preacher, and to be known as a pastor who is approachable, who can supply support and guidance to the parish, and to individuals.

"Personally, I want to be able to find a balance between everything that goes on in the ministry and still maintain a family life," DeMars added.

DeMars and his wife, Lisa, have two sons, Christian, 4, and Spencer, 2. Lisa was an Early Childhood Education teacher and is doing subbing in area schools. He lists as his interests snowmobiling, camping, drawing, painting, bow hunting, and surfing the Internet.
---