Arson suspected in Monitor Tire fire
This article submitted by Linda Stelling on 9/29/99.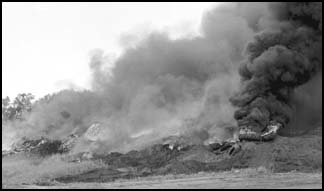 About 150,000 tires and a tire recycling facility were destroyed Saturday morning after a fire broke out at Monitor Tire Disposal, rural St. Martin. A large black cloud of smoke could be seen for miles away.

Art Binsfeld, owner of Monitor Tire, lives near the facility. Binsfeld heard a noise and when he checked outside, he found a pile of tires burning. Binsfeld called the St. Martin Fire Department at 4 a.m.

By 4:30 a.m., Harvey Rothstein, St. Martin Fire Chief, had called firemen in from Paynesville, Lake Henry, Melrose, Richmond, and Freeport to help fight the blaze.

"When we left Paynesville, we could see the flames in the sky and we are 13 miles away," Denny Nacey, Paynesville's assistant fire chief, said.

Also called to help contain the fire was Paynesville Excavating. They moved and spread apart tire piles with bulldozers and a backhoe.

In fighting the fire, the firemen drained the St. Martin water tower, used water from a reserve tank, and pumped water from the Sauk River, which runs through the property.

John Steinbach, Minnesota State Fire Marshall's office, said about 150,000 tires were destroyed in the fire along with the recycling building on the property. Binsfeld's home and one pile of tires were saved.

"Men from the Hazardous Material Planner office, Emergency Response Team of the Hazardous Waste Division of the MPCA, and a specicalist from the regional groundwater office were on the scene Saturday morning and again Monday morning," Rothstein said. The St. Martin Fire Department was at the scene until 7 p.m. Saturday evening. The other fire departments were sent home about 1 p.m.

The fire smoldered throughout the weekend and was still burning Tuesday morning. Steinbach said it is virtually impossible to put out this type of fire. The only way to extinquish the fire will be to smother it with dirt. Once the fire is out, crews will come in and remove the recycleable materials from the rubble.

The State Fire Marshall's office and the Stearns County Sheriff's office are investigating the fire, which they suspect as an arson fire. Anyone with information about the fire is encouraged to call the Minnesota Arson Reward hotline (1-800-723-2020) or Crime Stoppers (1-800-255-1301) or locally at 320-255-1301.

There is a $2,500 reward for information indentifying a person responsible for a fire.

Monitor Tire Disposal
Recycling was a growing field and Art Binsfeld and Tom Oevermann started Monitor Tire Displosal in 1988 as a storage facility. They concentrated on shredding tires of all sizes and expanded to grinding tires.

They have an office and a grinding facility in downtown St. Martin and their shredding facilty is located a mile and a half west of town on Binsfeld's property. Monitor Tire Disposal Inc. collects tires from a five-state area and beyond. In 1991, there wasn't any equipment to shred larger tires, so they designed a one-of-a-kind shredder, and a modified backhoe that cuts the large tires into section and then places them in the shredder.

In 1991, 50 percent of the tires they shredded were mining equipment tires and off-the-road tires.

In 1995, Monitor was shipping out eight to ten tons of rubber fuel chips per week. The two-inch chips were burned to produce electricity.

Another market for rubber chips is lightweight backfill for road con-struction.

The next step in the process is crumb rubber. By shredding the chips even smaller you make crumbs. The smaller piece has a number of potential uses, including rubberized asphalt. Eventually, up to 20 pecent of asphalt could be recycled rubber.

Monitor Tire has the ability to shred 2.5 million tires a year at their facility.
---