Sermon ideas shouldn't ever be a problem for Amber Ingalsbe, a 1999 PAHS graduate who is spending her second year in London through an ELCA volunteer program.

Her English adventure includes living in an multi-cultural neighborhood in east London, working in a Methodist (not Lutheran) church, and experiencing culture shock not only from living abroad but from living among immigrants from the Caribbean and from Africa.

Ingalsbe, who graduated from Luther College in 2003, majoring in religion and psychology, felt she was prepared academically for the seminary after college but wanted to broaden her horizons.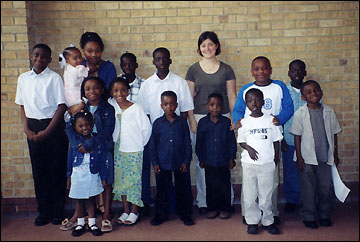 So, through an ELCA volunteer program, she moved to England in August 2003 for a year to work in a church. The ELCA program works with an ecumenical organization in the United Kingdom. So while Ingalsbe is Lutheran, she actually works in a Methodist church in London. (Lutheran churches are rare in England, Ingalsbe reported.) She liked her congregation and her experience so much that she chose to stay for a second year.
Amber Ingalsbe - shown with the students in her church's Sunday School - chose to stay a second year as a volunteer at a Methodist church in east London. The church serves a diverse immigrant community.
She lives and works in east London, in a largely immigrant neighborhood. When she volunteered, England was her preferred country (because she always wanted to visit that country and because she figured it would be the easiest place to live) but she wanted to go to a rural church.
Instead, she was assigned to a black, urban church in a multicultural neighborhood that has Sikh temples, Muslim mosques, and Hindu temples.
Her Methodist congregation dates back to the white working-class Brits who used to populate the neighborhood. That congregation built a new brick church 12 years ago, meant as an outreach to the growingly diverse neighborhood.
The 40-member congregation still has white members - a 94-year-old woman is the oldest - but it is increasingly black. In the 1960s and 1970s, immigrants to the neighborhood came mainly from the Caribbean, predominantly Jamaica. These families are now at least the second generation living in London. Newer immigrants come from Africa, still mainly from former British colonies like Ghana.
It is not unusual for Ingalsbe to be the only white person in church, she said.
While the size of congregation is stable, around 40 members, the actual membership is not. Church membership, like the neighborhood itself, is transient, with new immigrants coming to the neighborhood and joining the church, but families quickly try to leave and to move to better neighborhoods.
The church's minister serves a three-point parish in London. So Ingalsbe acts as a second minister: preaching, running Sunday School, leading the worship band, playing keyboard, and visiting parishioners.
This year, she would like to start a church choir, and she would like to get more young families involved in the church. Many people want things to happen but don't want to volunteer, she said.
She wanted to stay another year because she enjoyed it so much and because she was the first volunteer at her church and wanted to help some of the programs get more established. For instance, she helped to expand their Sunday School last year, and she helped to restart their youth club.
If she could make herself redundant in the next year, it'd be great, said Ingalsbe, who spent four weeks on vacation at home in Paynesville in August.
Ingalsbe experienced lots of culture shock during her first year abroad. For example, for her parishioners on African or Caribbean time, church starting at 11 a.m. means the church is not full until 11:30 a.m., said Ingalsbe.
She has been served a whole baked fish, head included, and other ethnic food, but finds the hardest task is eating with her right hand only. Caribbean immigrants consider only the right hand clean, while Amber is lefthanded.
"I think people appreciate that I try," said Amber of adapting to the various cultures in her church, "and we always have a good laugh because I do something wrong."
Culture shock with the English come as subtle differences, according to Ingalsbe. You are "really thrown" sometimes, she said, "because you don't expect it to be different." Americans are loud, said Ingalsbe, especially compared to Brits who speak in whispers.
And not only does Ingalsbe have to contend with a Creole from Ghana and a pidgin from the Caribbean, she has trouble knowing proper etiquette for the question-laden British speaking style. Say Ingalsbe asks someone: "Is there communion on Sunday?"
To which that person replies, "Well, there was communion last week, wasn't there? So there won't be any this week, will there?"
Ingalsbe got the drift - no communion - but she was unsure if she should answer these rhetorical questions or not.
Brits, on the other hand, don't know Minnesota at all, and they think all America is like the TV show Beverly Hills 90210.
Another shock for Ingalsbe was England having a state church (Anglican) and prayer in school.
Ingalsbe feels immersed in her community and does not see any Americans in her neighborhood. But she does when she travels around London on her days off.
While England is close to a host of other European countries - "they travel to other countries like we travel to other states," said Ingalsbe - she stays close to home in London as her limited budget only allows for day trips.
Simple living on a volunteer stipend means lots of walking for Ingalsbe - including a 20-minute walk to church - and traveling by train and bus. (Last year, she lived with the minister in the parsonage, but this year, with the congregation getting a new minister, Ingalsbe has her own flat, or apartment.)
She likes to tour museums (which are free) and visit other volunteers on her off days. Since she doesn't have TV, she stays busy in the evenings with church events and reading.
About the only time she got to travel last year was when her family came to visit her. Her brother Scott visited during his spring break, and herĘparents Dave and Barb and brother Adam visited in June.
Her father's family came from Ingoldsby, a village near Nottingham that the family visited with Amber while in England. But, after coming to America, the family changed its name to Ingalsbe during the Revolutionary War because "Ingoldsby" sounded too English, Amber said.
Next year, Ingalsbe will attend the Harvard School of Divinity in Boston to become a Lutheran minister. She was accepted at Harvard for this fall but deferred until the fall of 2005. She felt she was well prepared academically to enter seminary but thinks her experiences in London will better prepare herself.
---
Contact the author at editor@paynesvillepress.com • Return to News Menu
Home | Marketplace | Community
---