Each school day, Katherine Halverson is greeted by 17 children, who call her "Grandma," when she walks into the walks into the Paynesville Head Start classroom. Though not related biologically, Halverson serves as a foster grandmother to the class.

In fact, three Paynesville residents - Halverson, Betty Keller, and Alice Younkin - belong to the Central Minnesota Foster Grandparent Program, which trains and places senior citizens in classrooms to help students with their lessons, to assist teachers in the classroom, and to give out hugs and affection whenever needed.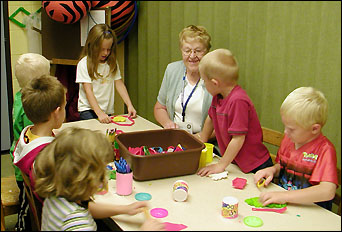 As a foster grandparent, each woman spends an average of 20 hours each week in the classroom. "It's very helpful," said special education teacher Leza Weber, whom Keller helps at Paynesville Area Elementary School.
Alice Younkin, or "Grandma Alice" to her students, enjoys working with all four kindergarten classes at Paynesville Area Elementary School.
Weber likes that she can do paperwork while Keller, a new foster grandparent this year, helps children with activities. "It's good for the kids to be able to develop relationships with older people, especially children who don't have grandparents nearby," Weber said. Duties for a foster grandparent can vary widely. Keller dedicates her time to special needs children who need a little extra attention; Halverson chose Head Start because she loves being with very young children; and Younkin keeps busy helping kindergartners with everything from making dinosaurs to learning how to write their names.
Though their assignments are different, the women have a couple of things in common: a love for children and a desire to make a difference in their community.
At 81, Halverson has been a foster grandparent for 17 years. With 19 grandchildren, 29 great-grandchildren, and two great-great- grandchildren (and another on the way) of her own, Halverson believes she definitely is qualified for the job.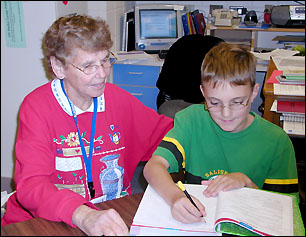 For the first 13 years as a foster grandparent, she visited the homes of special needs families, she said. Through the years, Halverson said she formed unbreakable bonds with her students and their families. She once walked a student's parents down the aisle for their wedding, and she was at the hospital when the mother of one of her students had a baby. Now, she's delighted to to be a foster grandparent to some of her former students' children.
Betty Keller, a foster grandparent at PAES, enjoys one-on-one contact with students, like this math lesson with Jebb Davidson.
About four years ago, Halverson began to find it difficult to drive to students' homes in the winter, so she became a foster grandparent at Head Start. "If I'd known how much fun it would be, I would have moved to the classroom sooner," she laughed.
Younkin, who works with all four of the kindergarten classes at PAES, was a cook and dishwasher at the school until she retired about five years ago. At first, Younkin, who still works part-time at the Koronis Hills Golf Club in the summer, tried to fill her spare time by making quilts for her family. Once all of her children, grandchildren, and extended family members had quilts, she moved to embroidering dishtowels.
But soon, that too grew old. "I must have made 50 quilts," she said with a laugh. "I was tired of thinking of projects to do." She also found that she really missed the children who called her "Grandma Younkin" in the school cafeteria.
Fortunately, Younkin learned about the foster grandparent program from a church bulletin and decided to join. After attending training provided by Catholic Charities, Younkin was ready to go back to school this year.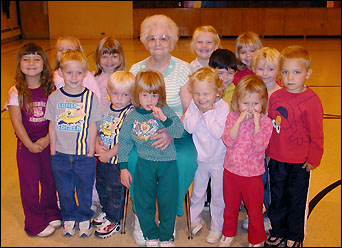 The most difficult thing so far has been remembering the names of all 81 kindergarten students who now call her "Grandma Alice."
Foster grandparents help teachers by spending one-on-one time with students. One-on-one time is especially important for students with special needs, said Keller.
Katherine Halverson - shown with the students in the Head Start class this fall - feels that being a foster grandparent keeps her yound. She has been a volunteer with the program for 17 years.
Keller, a former high school teacher, wanted to be back in the classroom, but not as a teacher. Foster grandparenting is ideal because she can be the "good guy," she laughed. Because foster grandparents are not responsible for student discipline or grading, she can relax and just enjoy the kids while she helps them with their homework and learning activities.
"And I don't have to worry about the next day," Keller said.
Students don't reap all of the benefits of the foster grandparent program, according to Halverson. She believes it helps keep her young and her doctor agrees, she said. He instructed her to keep it up because it's good for her, she said.
Halverson plans to take her doctor's advice. "The years go by fast when you're busy and happy and love what you're doing," she said.
In addition, Halverson has the pride of knowing she's made a difference in children's lives. Though she has won awards for her service to the community, Halverson's greatest reward is having students and former students run up to hug her when she meets them on the street, she said.
Currently, the Paynesville area needs at least one more foster grandparent, said Halverson. The central Minnesota program is funded by federal grants and administered by Catholic Charities. It is open to men and women over 60 who want to become a mentor to children.
Foster grandparents are asked to make a time commitment to the program of 20 to 40 hours per week and to attend monthly meetings after the initial training is finished. For more information about becoming a foster grandparent, contact Catholic Charities at 320-229-4588.
---
Contact the author at editor@paynesvillepress.com • Return to News Menu
Home | Marketplace | Community
---