Four local hunters had the opportunity to hunt wild turkeys last spring through Wheelin' Sportsmen, a program that aims to enable disabled, elderly, and immobile people to hunt, fish, and camp.

Three of the four hunters got wild turkeys, all three on their first day.

Matt Leyendecker, now 82, got his during a special hunt at the Sand Prairie Wildlife Management Area, just east of St. Cloud, in April; Bill Ryan, who broke his back while serving in the army in Vietnam in 1967, got his wild turkey at a first-ever hunt for disabled veterans at Camp Ripley in May; and Dennis Olmscheid got his bird while hunting on private land near Farming, also in May.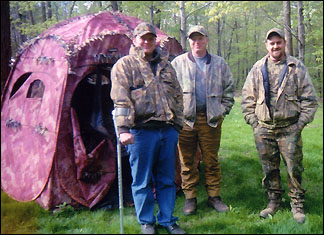 Jim Liebl also went hunting three or four times last spring with Wheelin' Sportsmen and got a couple shots with his crossbow but did not get a wild turkey.
Jim Liebl (left) went turkey hunting with a crossbow last spring guided by his father Dan Liebl (center) and Joe Pelzer (right). All three are from Lake Henry.
Wheelin' Sportsmen is coordinated in Minnesota by Ron Welle of Spring Hill, who arranged for these local men to go hunting.
Leyendecker, who turned 82 in June, said he is old enough to quit hunting but had never got around to turkey hunting before and wanted to try it. "I'm getting pretty old," he said. "I'd at least like to go turkey hunting one time."
He got permission through Wheelin' Sportsmen to hunt at the Sand Prairie Wildlife Management Area and had 600 acres to himself.
Guided by Steve Merten of Kimball and accompanied by his youngest son, Leyendecker got his wild turkey on Saturday, April 23, his first day of hunting. He hunted only from 6 to 7:30 a.m.
At 6:30 a.m., they saw a turkey about 150 yards away, going into and out of the woods. "They say they can go 40 miles per hour. I bet that's how fast he was going," he said.
Then, around 7:30 a.m., they saw a second tom about 40 yards away. His son said, "Uh, oh, Dad's going to miss this thing." But Leyendecker said he hit it with one shot and then it went "down like a sack."
His 21.5-pound tom had a 52-inch wingspan and 1.25-inch spurs and, most notably, an 11.25-inch beard, which is very large and got Leyendecker's picture published in Outdoors Weekly.
Leyendecker, who still climbs a tree stand for deer hunting, said he really appreciated going on the special hunt but probably won't go again. He'd rather give others a chance to hunt wild turkeys, he said.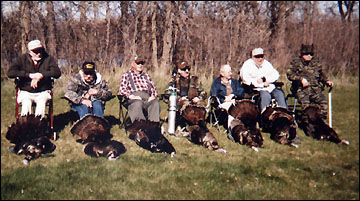 Ryan was one of 20 disabled veterans to hunt at Camp Ripley from Monday, May 2, to Wednesday, May 4. It was the first time the camp had been used by Wheelin' Sportsmen, which frequently gets permission from government authorities to hunt places that average citizens cannot.
Bill Ryan (second from left) participated in a first-ever turkey hunt at Camp Ripley for disabled veterans last May along with 19 others.
Having only driven past Camp Ripley before, Ryan was surprised at the size of the camp, which is 20 miles in length and 54,000 acres in size. The disabled veterans stayed at guest cabins and received free food and lodging.
"They treated us like royalty," said Ryan. "These people went out of their way to make sure we had a good time," he continued. "The turkey was just a plus."
Welle applied last winter for Ryan to attend this hunt. "I'd never done it before, and it sounded like fun," said Ryan, who normally hunts deer, pheasants, and ducks and is a former state president of the Minnesota Deer Hunters Association and still active with the Tri-County River Bottom Bucks.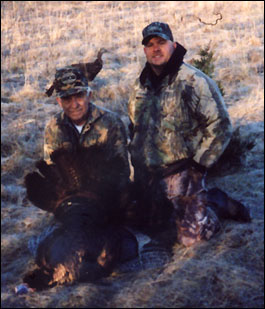 Ryan and his guide, Tim Glines, a regional director for the National Wild Turkey Federation from Coon Rapids, scouted on Monday and set up a camouflage tent with shooting windows as a blind. They got up at 3 a.m. on Tuesday and got into the field, because they could shoot starting at 5:30 a.m. They saw a tree full of birds a quarter mile away, and the guide spent 45 minutes using a mouth call to lure the birds closer.
Matt Leyendecker (left) - pictured with his guide - got his turkey at the Sand Prairie Wildlife Management Area in April. His tom had an 11.25-inch beard, which prompted Outdoors Weekly to publish his picture.
Unlike deer, which quietly sneak up on a hunter, they saw and heard the turkeys for a long time before they were in range and in position to shoot, said Ryan. That did not diminish the excitement for him. "I was shaking so bad," he explained. "My guide grabbed me by the arm."
Glines told Ryan that he had successfully hunted wild turkeys in 23 states, including Hawaii. "He knew how to call them," said Ryan. "Boy, before you knew it, they were right in front of us."
At 6:15 a.m., 12 toms, three hens, and one jake (immature tom) came within 30 yards. Ryan waited for one tom to come within range, to be in front of a window, and to be alone. He shot a 23.5-pound tom at 15 yards, and it flew 30 yards and expired.
Having completed his hunt early, Ryan got to tour Camp Ripley and see how the other hunters were doing. Eleven of 20 got birds.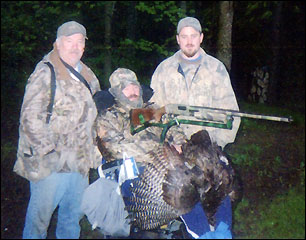 What amazed Ryan was the number of deer at Camp Ripley. He estimated seeing 25 wild turkeys and 300 deer in three days.
Ryan said he'd love to go on another hunt with Wheelin' Sportsmen: "Oh, gosh, in a minute."
Dennis Olmscheid (center) shot this jake last May near Farming, guided by Ron Welle (left) of Spring Hill and Joe Pelzer (right) of Lake Henry. Pelzer built a gun stand to hold Olmscheid's shotgun.
In May, Welle and volunteers arranged for some hunts on private land in Stearns County. Liebl, who was injured in car accident in February 2003, was too late to get a firearms license and went with a crossbow instead, as he could still get an archery permit and could use a crossbow due to his injury. He did have a couple shots in this three or four outings.
Joe Pelzer, an avid turkey hunter from Lake Henry, helped to guide both Liebl and Omscheid, who is his uncle. For Olmscheid, Pelzer built a brace for him to hold his shotgun. Pelzer saw the design and built one like it. All Olmscheid had to do was aim and shoot.
Olmscheid, a quadriplegic since a car accident in July 2003, shot a year-old jake that was 18-20 pounds. They went out at 5:30 a.m., and Olmscheid got his turkey at 6:15 a.m.
"Joey Pelzer seen it come out of the woods," said Olmscheid. "All I had to do was pull the trigger."
Olmscheid hopes to use his shooting brace for deer hunting, too.
Welle - who appreciates all the help he gets from volunteers to operate Wheelin' Sportsmen - said he and his volunteers enjoy seeing hunters overcome their physical frailities and hunt, whether they are being introduced to hunting or getting a chance to do a favorite activity again. Working with disabled or elderly hunters puts your own small aches and pains in perspective, according to Welle. "It makes you appreciate life," he said.
---
Contact the author at editor@paynesvillepress.com • Return to News Menu
Home | Marketplace | Community
---