Six former Bulldog athletes - LeClaire "Bud" Olsen (Class of 1941), Joe Pung (Class of 1961), Paul Voss (Class of 1982), Greg Schwartz (Class of 1991), Brenda (Meyer) Corrow (Class of 1992), and Joel Fenske (Class of 1994) - were inducted into the Bulldog Hall of Fame over the weekend.

These athletes "are six of the best ever to wear the green and white," Bulldog Booster Club president Terry Skoglund told the inductees at the banquet on Saturday night.

The Bulldog Booster Club - an organization dedicated to promoting and funding athletic programs in the Paynesville Area Schools - started this Hall of Fame, said Skoglund, in order to reconnect with former student-athletes and to give great examples to today's students, especially in excelling in three sports. "In a small school," said Skoglund, "we need three-sport athletes."

All six inductees this year were three-sport athletes, and all the recipients expressed gratitude towards the Bulldog Booster Club and appreciation to the hometown school and their high school coaches.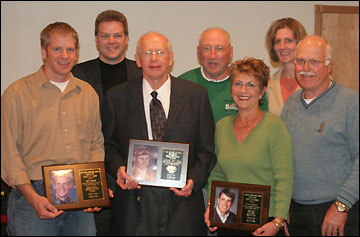 •Olsen played football, basketball, baseball, and track, earning 14 letters during his career. A 6' 3" center, he led the Bulldogs to their only two district titles in basketball in 1940 and 1941, leading the tournament in scoring and then being named to the All Regional team in Minneapolis.
Six former Bulldogs were inducted into the Hall of Fame on Saturday night. They were: (front) Joel Fenske, Bob Olsen (representing his brother Bud Olsen), and Pat and Virg Vagle (representing their son Greg Schwartz); (back) Paul Voss, Joe Pung, and Brenda (Meyer) Corrow.
He was killed when his navy plane crashed into the Pacific Ocean during a landing attempt during World War II in December 1944.
In accepting the award, his younger brother Bob said that he was 12 when Bud graduated and that he looked up to him as one of the "big guys." He reminded athletes that "like it or not," little guys still watch and emulate them today.
•Pung played football, basketball, and track for the Bulldogs, earning a scholarship to the University of Minnesota in football. He lettered three years for the Gophers, being named captain and team MVP his senior season as center.
Pung, said his former football coach Jim Loomis, "didn't ever have the physical skill to do what he did." But, Loomis added, "Joe was the most determined athlete I ever coached. He practiced like he played, 100 percent."
Pung, like all the inducted athletes, said he appreciated all the opportunities that growing up in a small town and attending a small school afforded him as a student. Having taught in the Osseo School District for over 30 years, similar opportunities for students to try and participate in any activity do not exist in larger schools, he said.
"I have lots of great memories of being in Paynesville, playing for Paynesville," he said.
Pung is now retired and living near Rush City, Minn. He and his wife Vicki have three adult sons.
•Voss played football, hockey, and track during his high school career before starring in football and track at the University of St. Thomas.
Voss, who spoke to the high school athletes on Friday afternoon, shared a story from his college football days for the Tommies. One day, he said, practice was not going well, so their coach, Mark Dienhart, called the team into a huddle and told them that football was not the most important thing in the world. Faith, family, and friends definitely were more important.
But, he added, for the next 60 minutes football had better be the most important! From this, Voss said he learned that whatever you are doing should be your top priority.
Voss, noted his high school football coach Virg Vagle, only played 12 games as a football starter for PHS. (The teacher's strike in 1981 shortened his senior season to three games.) But he still gained over 1,000 total yards.
In track, Voss is one of three Bulldog male athletes to earn three state medals.
Voss is now an associate professor of English at Georgia State University and a visiting professor at the Georgia Tech University School of Business, as well as the president of Ethikos, a consulting firm specializing in business ethics. He and his wife Mary live in suburban Atlanta with their five children.
•Schwartz helped the Dogs to a conference football title his senior year, started on a baseball team that reached the section finals, and earned four state championship medals in wrestling (three as team champions and one for an individual state title).
A five-year varsity starter in wrestling, he wrestled on the Dogs state championship teams in 1987, 1990, and 1991, winning an individual state title at 140 his senior year and holding the school record for wrestling wins for a decade.
Athletic coordinator Kyle Nehowig, who coached Schwartz in football, said that he tells his kids that more than better grades and athletic accomplishments, it's most important to be a nice person, which Greg was. (Schwartz died in a car accident in June 1992 after his freshman year of college, when he wrestled for the U of M-Morris.)
Accepting his award were his parents Pat and Virg Vagle. Pat said they were shocked and pleased to learn of Greg's award. "He loved Paynesville. He loved playing for Paynesville."
Virg said that Greg was driven by competition, always wanting to do anything that his siblings could do, and then wanting to do it better.
"We wish he were here today," concluded Virg. "Thanks for not forgetting Bud Olsen and Greg Schwartz."
•Corrow played volleyball, basketball, and track for Paynesville and then starred for St. Cloud State University in basketball.
Her former basketball coach Brad Skoglund said he could tell she was a terrific athlete when she took three strides to cross halfcourt as an eighth grader. She scored 978 points during her four-year varsity career and would have scored 1,000, said Skoglund, except they lost two games to bad weather.
At SCSU, Corrow said she was intimidated at her first practice and then infuriated when her coach made her watch the three-person weave because she was from a hick town. "I'm going to prove you wrong," she remembered thinking.
SCSU got a new coach her sophomore year, and she started to play. She led the North Central Conference in scoring and rebounding her junior and senior seasons, finishing her college career with over 1,000 points and being named the NCC MVP her senior year.
Corrow and her husband Todd live in Cleveland, Minn., where she works as a team coordinator for home care and hospice. They have two sons.
•Fenske ran cross country, played basketball, and ran track for the Bulldogs and then led the University of South Dakota to a Division II national title in cross country.
Fenske was a four-time All American at South Dakota, finishing seventh individually at nationals his junior year as the Coyotes won the national title.
His classmate Chris Stanley said that he and Joel became friends in first grade due to sports...and because Joel was the best athlete in the grade and Chris liked to be on his team because he wanted to win, too. Fenske's accomplishments were not due to talent alone, said Stanley, as Joel was very competitive and always wanted to win.
Joel, also like many of the inductees, thanked his parents for the opportunity to play sports, to be a three-sport athlete. Competing in sports and being part of a team were a good transition to life, he added.
Fenske and his wife Tina live in Farmington with their four children. He is a chiropractor in Burnsville.
The next class of inductees into the Bulldog Hall of Fame will take place in 2008. To know about deserving athletes, the committee needs nominations, said Nehowig and Skoglund.
(Editor's Note: Jacobson served on the selection committee for the Hall of Fame.)
---
Contact the author at editor@paynesvillepress.com • Return to News Menu
Home | Marketplace | Community
---