Eden Lake Township paved nearly 14 miles of roads over the summer. The township repaired 63,345 feet of its roads and paved another 8,740 feet, a total of 72,085 linear feet for the road project.

The roads that were paved throughout Eden Lake Township this summer include: 150th Street, 248th Avenue, Crescent View East, Cyrilla Beach Road, Mary Street West, Dawnridge Circle/Dawnridge Court, 170th Street, Lakewood Road, 178th Street, Dove Hill Road/Green Acres Drive, 185th Street, 233rd Avenue, Edgerton Road, 213th Avenue, Raymond Avenue, Delano Road, and 207th Avenue.

The $968,000 project included reclaiming 53,040 feet of roads throughout the township. Reclaimation consisted of removing the existing asphalt, grinding, retarring, packing, leveling, shaping, and compacting. Another 10,305 feet of roads (248th Avenue, 233rd Avenue, and 170th Street) were overlayed with additional asphalt.

Five roads in the township - totalling 8,740 feet - were paved this summer. These roads included Mary Street West, Crescent View East, Dawnridge Circle/Dawnridge Court, Delano Road, and Dove Hill Road/Green Acres Drive.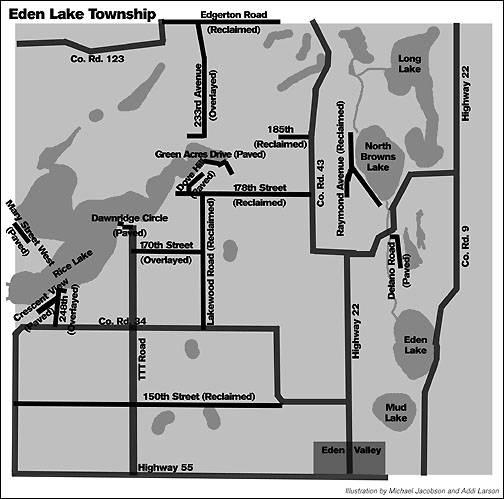 In order to pay for this road project, the township bonded for $750,000. Also, $101,500 - levied last year for tar - was used for the project, as well as $116,500 from the township's road and bridge levy last year of $151,000 (with the remainder being used for culverts).
Eden Lake Township completed a $968,000 road project this summer, paving or repaving nearly 14 miles of roads in the township.
"We really watch the money. Everybody that's on the township board lives in the township. You've got to keep it up," said Eden Lake Township supervisor Dave Benkowski.
Last March, Eden Lake Township residents approved raising their levy to $440,000 this year. With a 15-year bond for this summer's road project, the township has roughly $75,000 per year committed to these bond payments.
"Well over 50 percent" of residents voted in favor of the decision to tar roads along southern Rice Lake, said Benkowski.
In the past, residents in the area had made requests to tar roads that were covered with crushed rock. Benkowski found, in speaking with a couple on Green Acres Drive, that residents dependent upon walkers were feeling alienated by the un-paved roads.
Now, said Benkowski, paved roads have enabled residents to be more mobile. One woman remarked on the difference in simply being able to leave the house and take a walk.
On Raymond Avenue along Browns Lake, kids have been rollerblading over the newly-paved roads in their neighborhood, also previously covered with crushed rock, said Benkowski.
The TTT Road was not paved this year (from Co. Rd. 34 to Highway 55). Benowski said residents might conclude that since the road connects residents on southern Rice Lake with Highway 55, it would have been reasonable to repave.
The reason the TTT Road was not paved this year - yet is planned to be paved in the future - is because the majority of roadwork (63,345 feet) was done to repair and reclaim existing roads and prevent further damage. "The township board kind of wanted to take care of (TTT Road), but I felt it was more useful to reclaim a lot more roads. In the future, I'm hoping we can tar that," Benkowski said.
Lakewood Road, which runs between Co. Rd. 34 and Highway 55, is not currently in future plans for tarring due to traffic of heavy machinery by farmers and by those using a gravel pit on the road.
The decision to reclaim existing paved roads was economical, said Benkowski, since the materials (i.e. asphalt) have already been paid for. Also, the maintenance interval is extended, as the roads are more adequate for winter protection and cracking will be largely reduced. Benkowski said that major maintenance would have otherwise been required on these roads in approximately five years. The roads are now projected to last approximately 20 years, said Benkowski.
Township chairman Jonathan Schaumann and supervisor Ralph Hennen also worked directly with Bauerly Companies this summer and oversaw the road projects.
Eden Lake Township also paid for half of the upgrades of Cyrilla Beach Road, located in Paynesville Township but serving solely Eden Lake Township residents, this summer.
---
Contact the author at editor@paynesvillepress.com • Return to News Menu
Home | Marketplace | Community
---