Students are following new bus procedures this fall at Paynesville Area Elementary School to improve safety and efficiency.

Changes to the bus procedures at the elementary school - which started this September when classes resumed - include: having only two pick-up and drop-off locations per student and improved communication between parents, the bus company, and the school, including supplying students with bus i.d. tags, giving bus drivers updated lists of riders, and establishing a deadline for parents to notify the school and bus company of daily schedule changes.

At open house and registration in August, the school issued - to elementary students (pre-kindergarten through fifth grade) - double-sided plastic tags with their bus numbers on one side and the types of dropoff locations on the other. H stands for home, DC for day care, GP for grandparent's house, etc..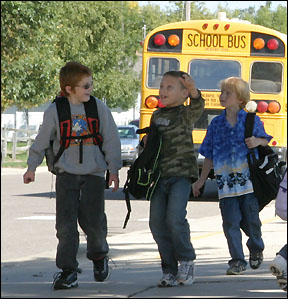 Since every student may have two drop-off sites, they may have two tags - either worn by the students or clipped onto their backpacks, etc. The white tags provide bus drivers and school staff with quick information about where the student should go after school and what bus to take.
New procedures - two pick-up sites, two drop-off locations, and tags with bus numbers - are being used for students at the elementary school this fall.
Morning bus drivers now are provided a daily route schedule with a list of students' homes or childcare providers. After school, drivers check students' tags to be assured they are on the correct buses. Transportation logs are kept at both the school and the bus company.
"The drivers have heard good comments from the parents," said Phyllis Nielsen, president of Paynesville Motor and Transfer, the district's bus contractor. "Drivers said the parents seem to be pleased with it. It was just really positive. So far, it's been working well."
According to elementary school principal Deb Gillman, this system has been particularly helpful for students in pre-kindergarten and kindergarten who are riding the bus for the first time this year and might not remember where they are scheduled to be each day. Gillman added that for the first two weeks of school, students - pre-K through second grade - are escorted to the bus lines by their teachers until acclimated.
This year, students are limited to two choices for their bus pick-ups and drop-offs, which was a compromise solution to safety concerns. A proposed one pick-up and drop-off policy faced opposition from parents at a public hearing last winter for not being flexible enough for families.
A primary concern raised by the bus company last winter was the number of notes received daily for changes in drop-off locations due to families' rescheduling. The overwhelming number of notes (about 100 per month) called for better communication among parents, the school, and the bus company. "That's why we brought this forward," said Nielsen.
Notes from parents regarding schedule changes, according to Nielsen, have decreased this year. "The drivers have a lot to be doing without having to look at notes or sometimes parents would bring calendars," continued Nielsen, adding that now bus drivers have a system that works. "It's easy. It's safe."
Superintendent Todd Burlingame agreed: "There was a lot of extra burden with the notes and calendars (last year). We wanted to help and make it more manageable. ...We want to have a good working relationship with the bus company. Our goal is to get the kids to and from school in a safe manner. I think it was a good compromise."
The current system, according to Gillman, "evolved over numerous meetings and trying to work with parents."
In researching this issue, Nielsen found other schools that were using wristbands to indicate students' bus numbers. Since the school district already had these white tags, they opted to use them. Burlingame said kids utilize the tags for other purposes, such as writing their lunch account numbers on them.
Gillman said the school would prefer to be notified of schedule changes with a note in the morning. Otherwise, by phone by 11 a.m., and as a last resort, by e-mail.
For last-minute emergencies, Nielsen requests that parents call the bus company at 243-4455 in addition to notifying the elementary school at 243-3725. Qualifying emergencies include a sudden illness or accident or a parent being called to work.
Elementary students who are scheduled to be at Bulldog Kid's Club, a new after-school school-age childcare, indicate that by wearing a corresponding tag. In the afternoon, if a student misses his or her bus or if no adult is present at the scheduled drop-off location, he or she will be brought to Bulldog Kid's Club in Room 166 at PAES.
"We are trying," added Nielsen, "so kids don't go to an empty home." All agreed that parents may rest assured their children are being accounted for with this policy. "That's what we're hoping for," said Gillman. "That was the main thing, trying to be proactive. We err on the side of caution."
Sometime this year, the school district will hold a follow-up meeting about these new bus procedures. Burlingame said three questions will be asked initially: "What's going well? What's not going well? And what do we need to do to change?"
"I really appreciate the help of the parents as we maybe tweak the system," concluded Nielsen.
---
Contact the author at editor@paynesvillepress.com • Return to News Menu
Home | Marketplace | Community
---