Family celebrates kidney transplants
This article submitted by Michael Jacobson on 9/27/00.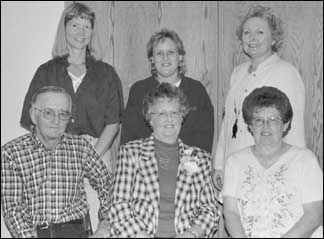 For many, the passing of years is met with a sense of dread. This is why so many people around town still claim to be 29, 39, or 49, instead of their real ages a few years older.

Three members of the Meyer family fully embrace the passing of the years. In addition to the events ordinarily celebrated by siblings like birthdays, anniversaries, and holidays, Joanne (Meyer) Spanier, Kathy (Meyer) Burg, and Alvin Meyer celebrate the anniversary of their kidney transplants.

Pictured at their recent dinner were: (front L to R) Alvin Meyer, Kathy Burg, Joanne Spanier; (back) Bonnie Schmiesing, Lori Lieser, and Mary Ann Bauer.

After all, when an organ transplant prolongs one's life, or at least improves its quality, one has something to be thankful for. "If we wouldn't have had these transplants, we probably wouldn't be here, at least not in as good as shape," explained Burg, whose 15th transplant anniversary recently brought together the three siblings, along with their three family donors.

"It's just something that's important to us," she added. "We have something to celebrate. We celebrate life."

A hereditary disease, polycistic kidneys, runs in the Meyer family. The disease attacks the kidneys, causing them to fail to purify the blood in the body. High blood pressure is one result.

"Being that your kidneys aren't working to capacity, your system is getting poisoned," explained Mary Ann Meyer, Alvin's wife.

"When you have it, there's nothing you can do to get rid of it," added Kathy. "It just runs its course, and when it gets to a certain stage you go for a transplant or have dialysis."

Both Joanne, Kathy, and Alvin's father and grandfather died young as a result of this disease. Their father died of a related stroke at the age of 44. In those days, dialysis and kidney transplants were not an option.

The Meyer siblings, along with a number of their cousins, have had transplants.

Of the three siblings, who all live in or near Lake Henry, Joanne was first to have a transplant. She received a kidney from her sister, Mary Ann, on April 10, 1984. Kathy was next in 1985. She had a transplant from a cadaver first, and when that failed, her daughter, Lori (Burg) Lieser, donated a kidney. Alvin was last, receiving a kidney from his daughter, Bonnie Schmiesing, in 1991.

Because of their experience and on-going medications, the three have a lot to talk about, but at normal family gatherings not everyone wants to hear about anti-rejection medicines. So the reunions also provide a forum for the siblings to focus on topics of mutual interest.

While their family celebrates birthdays at home, they always go out to eat for transplant anniversaries. With three transplants to celebrate, they have an anniversary pretty much every year. They take the donor to eat, too.

Lieser said it was easy to decide to donate a kidney to her mother. "I would have done it the first time if they would have let me," she explained. After the kidney from a cadaver failed, Lieser did donate to her mom.

Lieser stressed the importance of being an organ donor, not necessarily to a family member. She urged people to register to be an organ donor on your license and to make your wishes known to your family so they know what to do in an emergency. "There is still a need (for organ donations) for people who don't have immediate family who match," Lieser explained. New medical procedures also make donating much easier than it used to be.

Since polycistic kidneys are hereditary, some members of the next generation of Meyers will likely need a transplant in the future. With that, transplant anniversaries may be a family tradition for some time to come.
---