Paynesville senior named a commended student
This article submitted on 9/27/00.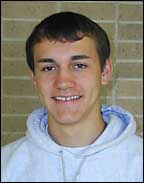 Scott Ingalsbe, a senior at Paynesville Area High School, learned last week that he has been named a commended student in the 2001 National Merit Scholarship Program.

High school principal John Janotta presented Ingalsbe with a letter of commendation on Wednesday, Sept. 20. The National Merit Scholarship Corporation, which conducts the program, presents the commendation certificates.

"I was pretty proud," said Ingalsbe of receiving the letter of commendation. "I taped it up in my locker."

Some 34,000 commended students throughout the nation are recognized each year for their exceptional academic promise.

Although he will not continue in the competition for Merit Scholarship awards to be offered next spring, Ingalsbe placed among the top five percent of more than one million students who entered the 2001 National Merit program by taking the 1999 Preliminary SAT (PSAT), which is the qualifying test for the National Merit Scholarship Program.

The top 50,000 scores on the PSAT (five percent of a million) are divided into 34,000 commended students and 16,000 semifinalists, who proceed for further testing in hopes of scholarships.

In a news release, a spokesman for the National Merit Scholarship Corporation commented about the outstanding academic performance of the commended students. "In a nation that values excellence, it is important to publicly recognize the attainments of scholastically talented young people and the schools that nurture their development. We hope this recognition will help broaden the educational opportunities of commended students and serve as encouragement to all students to develop their abilities to the fullest," the spokesman said.

Paynesville Area High School has had eleven commended students in the past decade. Last year, Amanda Reeck was named a commended student and in 1998, Paynesville had three commended students, when Camille Flanders, Rachel Gifford, and Amber Ingalsbe earned the honor.

Scott and Amber are siblings. They are the children of Dave and Barb Ingalsbe of Paynesville.

Paynesville's last semifinalist was Jeff Weis in 1989.

Scott Ingalsbe said he wasn't surprised to learn about the honor last week. In letters, prospective colleges had hinted that his PSAT score was high enough to qualify to be a commended student in a typical year.

Ingalsbe intends to attend college next year, but is not sure what he will study. Currently, he is applying to schools. At the top of his list are Duke University in Durham, N.C.; Vanderbilt University in Nashville; North Dakota State University in Fargo; and Augustana College in Sioux Falls, S.D.

Ingalsbe also is considering joining the Navy ROTC.
---