Physician assistant takes position at PAHCS
This article submitted by Michael Jacobson on 9/27/00.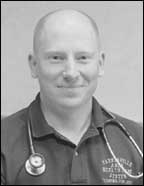 After spending most of his last year of training at Paynesville Area Health Care System, Dan Lillquist has joined the medical staff permanently as a physician assistant.

Lillquist spent six months at PAHCS last summer and fall, doing rotations in family medicine, internal medicine, pediatrics, and obstetrics and gynecology under the tutelage of several local doctors. He returned in May to do his summer preceptorship in family practice under Dr. Tim Malling.

On Sunday, Aug. 13, Lillquist graduated from the physician assistant program at Augsburg College in Minneapolis. He started work full time at PAHCS last week.

Having grown up on a farm in the Bemidji area, the size and friendliness of the Paynesville community drew Lillquist back.

He also enjoys the style of practice at PAHCS. Many physician assistants specialize in a certain discipline (surgery and dermatology are common areas), but Lillquist prefers family practice because of "the variety of people you see and the types of problems."

At PAHCS, he also enjoys the integrated approach and the cooperation between the various departments. Having laboratory testing, physical therapy, occupational therapy, outreach services, and radiology tests "right at one's fingertips" provides better patient care, he said.

To start, Lillquist will be working at the Paynesville Area Medical Clinic. Eventually, he may work at a satellite clinic, too. While part of his job will be to take walk-in patients, Lillquist values the opportunity "to actually get to know the patient and following along with their care."

Dan and his wife, Kelly, have purchased a home in Paynesville. She is a respiratory therapist who is working at the neonatal intensive care unit at the St. Cloud Hospital.

Outside the office, Dan enjoys hunting, fishing, and running. Having served in the U.S. Army for four years before doing his undergraduate schooling at Bemidji State University, he plans on joining the National Guard, where he will serve as a physician assistant.
---