Troy Boyle joins financial group
This article submitted by Linda Stelling on 9/27/00.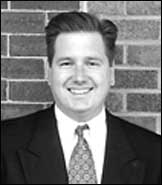 Paynesville native Troy Boyle has joined Craig Heitke as an independent insurance and financial services broker. Boyle looks forward to working with Heitke and getting reacquainted with Paynesville.

Boyle will start off working in Paynesville at Cliff's Insurance two days a week and plans to work into more days here.

Boyle is a 1985 graduate of Paynesville Area High School, and a graduate of Moorhead State University with a degree in business administration. Boyle started working in investments 10 years ago. Boyle has worked in Maple Grove as an independent full service broker for the last four years.

Boyle enjoys the independence of being on his own. "I offer whatever is best for the client, be it mutual funds, annuity, or stock market," Boyle said.

Boyle said it is important for people from 50 to 80 to know how much they will have to live on in retirement. "Many people wonder if they are doing things right with their income flow," Boyle said.

"It is my job to set up a game plan for people whether they are ready to retire or just planning for the future," he added.

Among Boyle's services are senior retirement, estate planning, asset management and protection, charitable giving, comprehensive planning, pension plans, and long-term care.

Boyle and his wife, Laurie, live in Maple Grove. They enjoy spending time outdoors, working in the yard, and playing golf and tennis.
---