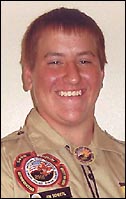 On Sunday, Jon Scheierl will join the ranks of the Boy Scout's elite. He will become the 21st Paynesville scout to earn scouting's highest honor Ð the Eagle rank.

Scheierl will receive the honor in a public ceremony at 2 p.m. on Sunday, Sept. 30, at St. Louis Catholic Church.

Scheierl wanted to become an Eagle Scout to follow in the footsteps of his older brother, David, who received the award several years ago.

Jon Scheierl, 16, is the first scout in his age group to become an Eagle Scout.

To earn the Eagle rank, Boy Scouts must earn 21 Eagle badges; show leadership; serve as a troop officer; be active in their troop, their church, and their community; and complete a project approved by the Boy Scout Council.

Scheierl has served as the troop's historian, senior patrol leader, and quartermaster. He has completed 25 badges.

Scheierl, the son of Tom and Florence Scheierl, made handicap-assessible picnic tables, a book cart, and flower planters for the Good Samaritan Care Center as his Eagle project. (See photo below.) He started his project in the family garage last winter. With the help of his fellow scouts and his dad, the items were ready to put in place by May.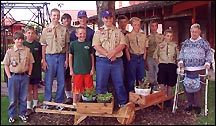 Scheierl started scouting in 1993 as a member of Pack 34. He completed his Bobcat, Wolf, Bear, and Webelos ranks under the leadership of his mother, Florence. As a Cub Scout, he completed all the requirements for the Parvuli Dei badge for the Catholic faith and earned the World Conservation Badge.
In March 1997, Scheierl joined the Boy Scouts. He advanced through the five ranks of Boy Scouts under the leadership of his father, scoutmaster Tom Scheierl.
Scheierl feels his dad has had a great influence on his scouting career. "He has encouraged me in every way possible and also helped other boys," he said.
In February 2000, Scheierl was awarded the Ad Altare Dei award for Boy Scouts of Catholic faith. In July 2000, he was elected to the Order of the Arrow.
The best part of scouting is camping, said Scheierl, who also likes to hunt and fish. Throughout his scouting years, he has attended Cuyanna Scout Camp and Ripley Rendezvous Alpha Lupus Winter Camp. This summer, he attended the National Boy Scout Jamboree at Fort A.P. Hill in Virginia.
He has also worked on staff at Camp Ripley helping with knot tying and the obstacle course.
Scheierl is the third Paynesville scout to earn the Eagle ranking in the past year. Scott Ingalsbe became an Eagle Scout in January and Jon Millner in April.
Other Eagle Scouts from Paynesville are: Craig Brinkman, Jamie Gilk, Steve Gilk, Mike Klein, Leo Louis, Ryan Louis, Casey Meagher, Jared Morris, Scott Morris, Mike Putzke, David Scheierl, Jeff Skrypek, Gary Wagner, Dan Welter, Lyle Wendroth, Loren Wendroth, Larry Wendroth, and Eric Werlinger.
Scheierl, a sophomore at Paynesville Area High School, participates in football and baseball and was on the yearbook staff his freshman year. He works at Koronis Parts and delivers the Press Plus on weekends.
He plans to continue in scouting, which he can do until he is 18. His next goal is to earn three Eagle palms. He needs to complete five scouting badges to earn each one. He already has earned one Eagle palm.
---
Contact the author at paypress@lkdllink.net • Return to News Menu
Home | Marketplace | Community
---