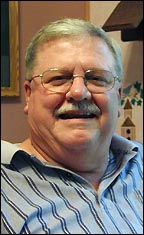 Don Skrypek will officially retire from teaching at the end of October after nearly 35 years in the classroom.

Skrypek is retiring to spend more time with his family. His wife, Lorraine, has been fighting cancer for six years. She also taught at the middle school and retired in June of 2000 to concentrate on her health.

Don wanted to be able to spend more time with her and their first grandchild, Natalie.

His last day in the classroom was last June. He has taken a leave of absence from the school until his retirement date. "I didn't think it was fair to the students to start a school year and then change teachers after two months," he said.

He does miss his job. "I miss teaching and the camaraderie with the rest of the teachers," he said.

Skrypek taught in a private school for five and a half years before coming to Paynesville. Coming from the Twin Cities, the Skrypeks weren't sure they would like Paynesville. When they first arrived, they told themselves they'd give it a year.

"We loved the community and stayed," Skrypek said.

When they started teaching in Paynesville, they were told the district liked the teachers to live in the community. That has changed over the years, he said. Something is lost when you're not a member of the community, he feels.

"We really love the closeness of people in Paynesville," he said. "I'm proud of the fact I helped shape some of the young people's lives."

Skrypek graduated from St. Thomas College, now University. He did his master's work at Bemidji State, and has done post-graduate work at St. John's University, St. Cloud State University, St. Thomas University, and Winona State.

"I always tried to pick up new things by going to summer school," Skrypek said.

Skrypek started his career in Paynesville as an elementary counselor, a position he held for 10 years. "I put my heart and soul into the program," he said,` "It was a painful period when the position was cut."

"The kids knew me and were comfortable with me," he explained. His goal was to get to know the students, meeting with them weekly or semi-weekly.

When his position was cut, Skrypek went back to the classroom. He has worked as a Title I reading teacher for kindergarten through sixth grade students and has taught fifth grade math, sixth grade science, and seventh grade geography, which he has done for the past seven years.

Geography was his main love, his area of expertise, Skrypek said. "I had done a lot of traveling and knew a lot about the world," he said. "I made it a hobby to learn more about the world."

The Skrypeks loved teaching in Paynesville and felt strongly about the kids. "They were neat to teach as they had a semblance of family life," he said, "That wasn't always true in the big city."

Skrypek embraced the small-town community by becoming involved in community activities. When he first arrived, they joined the Jaycees, thinking it was a great way to meet people. He is presently a member of the Paynesville American Legion, the Legion Color Guard, the Lions Club, and the Knights of Columbus.

Skrypek coached and officiated hockey games during his first two years in town. He even served on the first Paynesville Youth Hockey Association Board and built hockey boards each season and hand shoveled the snow off the old outdoor rink before games.

A highlight for him came when his team won the Central Minnesota championship and was state runners up with a record of 13-2-1. He still has the state plaque. "It was a fun time," he recalled.

Skrypek has also served as a seventh through ninth grade baseball and football coach for 15 years.

Skrypek said it felt strange not going to school with the other teachers this fall but found it enjoyable to go out golfing with friends instead. "I'm catching up on everything I never had time to do before," he said.

"Lorraine and I are getting back in touch with each other," he added. They pray daily for a cure.

"We are eternally grateful to the school staff for the help they have given us as we are going through tough times," he said.

In his leisure time he enjoys playing golf, fishing, hunting, gardening, and watching deer in their backyard each day. He feeds the deer, even raking the acorns in the yard for them.

The Skrypeks have three children - Suzanne, Jennifer, and Jeff - and one grandchild, Natalie, Suzanne's 10-month-old daughter. They babysit for Natalie twice a week.
---
Contact the author at paypress@lkdllink.net • Return to News Menu
Home | Marketplace | Community
---