The 75-year union of Seymour and Mabel Thompson has outlasted the tenures of 14 presidents of the United States and 17 pastors at Nordland Lutheran Church.

For three-quarters of a century, Seymour, 97, and Mabel, 94, have celebrated births, anniversaries, first communions, and confirmations.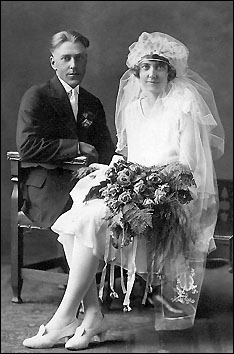 Mabel doesn't think there is a big secret to being married for so long. She and Seymour vowed to stay together until death parted them, and, by the grace of God, they've lived a long time together.
Seymour and Mabel Thompson were married 75 years ago, on Sept. 27, 1927. Their marital union has outlasted the tenures of 14 presidents of the United States.
Of course, marriage isn't always blissful - especially with the death of a child and the day-to-day challenges of running a farm and raising a family - but Mabel said they've never had a disagreement that made them want to separate.
Seymour and Mabel met in 1924 while Seymour was doing farmwork for Mabel's sister.
Mabel worked at Tuck's Cafe at the time. Seymour would pick her up in his car and they would go for drives. "He never took me out for dinner or anything," said Mabel, "Sometimes he would take me to a show, but mostly we just cruised."
The couple married in Mabel's home in South Haven on Sept. 28, 1927, just two days after Mabel's 20th birthday.
After they were married, they settled on Seymour's family farm, south of Lake Koronis, where Seymour farmed with his father.
In the early days, Seymour worked the fields with horses. He bought his first tractor in 1934, a John Deere B with big steel wheels. Seymour keeps a model of the tractor on his dresser at the Koronis Manor today.
Mabel said she didn't help out much with the farm until they had a tractor because working with the horses was too hard. After they got the tractor, she spent some time in the fields.
Besides helping out with the farm, Mabel did all of the typical duties of a farm wife. She cooked for the men who worked in the fields, kept house, took care of her children and grandchildren, and still found time to grow a vegetable garden and take care of her flower beds, said grandson Jeff Thompson. He added that his grandfather loved to cook, which was unusual in those days, and Mabel would turn her kitchen over to him.
Because of his cooking skills, Seymour was popular on fishing trips, according to Jeff. While on fishing trips to Canada and other places, Seymour couldn't easily get in and out of a boat, due to his bad hips. So he would fish a bit and then do the cooking for the other guys.
Jeff remembers his grandparents being very active in the community. They were both active in the Farmer's Union, she as secretary and he as the local president. They were also active in the local DFL party and were the caretakers at the Lake Koronis Regional Park.
Now, Seymour and Mabel share a room at the Koronis Manor. She moved there first and, for the past year or so, they've been there together. Life at the Manor is different but comfortable, said Mabel. It's much better now that Seymour is there with her, she said. One thing about living at the nursing home bothers her: she can't entertain guests properly - with coffee and food.
Seymour and Mabel are members of Nordland Lutheran Church, where Mabel taught Sunday school and was once president of the church council. "It was different back then," she said. "Now, there's a board for everything, but then a few people did everything."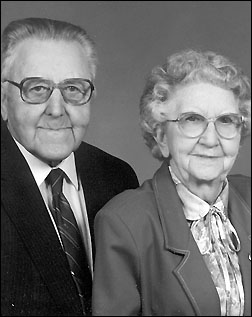 Mabel misses going to church. She's happy, though, that their pastor comes to visit and give communion.
Seymour & Mable Thompson will celebrate their anniversary with their family and friends at the Koronis Manor on Saturday, Sept. 28.
Seymour, a quiet guy, has trouble hearing and uses a hearing aid, so holding a conversation is difficult for him. But he did say their kids and grandkids take good care of them. Their son Buddy bought a van equipped with a wheelchair lift so he could take his parents out once in a while. Grandson Rick and his wife, Gail, who now live on the family farm, take care of their financial business, and Jeff and his wife, Becky, make sure they have everything they need.
Seymour and Mable have two children, six grandchildren, nine great-grandchildren, and one great-great grandchild.
"Family has always been important to my grandparents. Family reunions are almost mandatory," Jeff said of the annual events that the Robergs (Seymour's family) and the Schmidts (Mabel's family) hold. "My grandparents even managed to go to both of them last summer.
The couple will celebrate their anniversary with their family and friends at the Koronis Manor on Saturday, Sept. 28. An open house celebration will be held from 1:30 to 3:30 p.m.
---
Contact the author at editor@paynesvillepress.com • Return to News Menu
Home | Marketplace | Community
---