Mike Slavik, then a member of the College Republicans, met Rep. Doug Stang (R-Cold Spring) while attending St. John's University, when Stang gave a talk to Slavik's first-year class.

Now, Slavik, a 2001 St. John's graduate, is attempting to unseat Stang, a 1996 St. John's graduate, in House District 14B, though as politely as possible. Slavik, originally from Hastings and now living in St. Joseph, says he has high regard for Stang personally but differs with him on some key issues, notably transportation, where Stang has balked at a gas tax and opposes mass transit.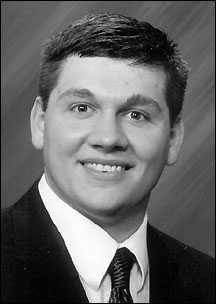 Slavik, who is the DFL endorsed candidate, lists transportation as one of the three key infrastructure areas, along with adequate funding for education and health care. For transportation, he thinks legislators need to look beyond ten years, where he sees mass transit as a need. Right now, the state has $800 million in unmet transportation needs, he says, so in ten years the situation could be more dire.
Mike Slavik (DFL-St. Joseph) is challenging Doug Stang (R-Cold Spring) in House District 14B in November.
While the first phase of a light rail line (from downtown Minneapolis to the airport) might not relieve much congestion, the next (connecting downtown Minneapolis to St. Paul along University Avenue) will, he said.
Another light rail line along the Northstar Corridor (from St. Cloud to the Twin Cities) could benefit residents in District 14A, he added. He knows this issue personally, having commuted from St. Joseph to the Twin Cities for a time.
Slavik, who is a born and raised Catholic, takes pride in being a pro-life DFLer. He likes to say that he respects life at all ages, from the very young to the very old.
His other priorities, education and health care, reflect that. Slavik thinks Minnesota needs to reinvest in education and fund schools adequately, not only K-12 education but higher education, too, a message he hopes will be popular in House District 14A, which includes 4,000 students from St. John's and the College of St. Benedict's in St. Joseph.
In health care, he pledges to make improvements in the high cost of prescription drugs, especially for seniors, and in long-term care. Having worked at a nursing home for nearly six years while attending college, he believes he has strong background when it comes to long-term care.
Slavik has worked in the Alumni Development Office at St. John's for two years, has served for two terms on the Board of Regents at St. John's, and is an active member of the St. Joseph Parish. Always interested in politics, he thought he would run for the Minnesota Legislature in his 40s, not his 20s, but was convinced to run by some fellow parishioners.
---
Contact the author at editor@paynesvillepress.com • Return to News Menu
Home | Marketplace | Community
---