The biggest employer in the town has a new boss. Steve Moburg, the new chief executive officer (CEO) for the Paynesville Area Health Care System (PAHCS), started his new job on Monday, Sept. 16.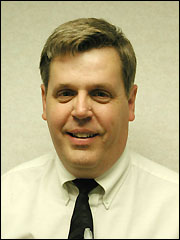 "It's been great," said Moburg, a native of Moline, Ill., one of the Quad Cities on the Mississippi River on the border between Illinois and Iowa. "The people have been great so far."
Steve Moburg - who is replacing retiring Willie LaCroix - started on Monday, Sept. 16.
Moburg - who holds a bachelor's degree in business administration from Luther College in Decorah, Iowa, and a master's degree in health administration from Georgia State University - has 18 years of administration experience in health care. He spent 12 years as an administrator in Illinois, first at a private hospital and nursing home in Carthage and then at a municipal facility in Monmouth, where he oversaw a 90-bed acute-care hospital and a 35-bed skilled nursing home.
His last six years of administration were at Boscobel Area Health Care in Boscobel, Wis., which has many of the same components as PAHCS: acute care, clinic services (with physicians who work for the health care system), long-term care, and consulting specialists.
At each of these assignments, Moburg supervised between 200 and 300 employees, so he views his job at PAHCS (which now has over 400 employees) as the same, only bigger.
Moburg, the son of a hospital administrator, never intended to work in rural health care, but after completing his master's degree, that's where he landed a job. "I took my first job in rural health care, and I fell in love with it," he explained.
"In my opinion, (rural health care) embodies the values of medicine," he added. "It's not corporate health care. It's people-based."
Being a district - with seven cities and four townships as members - provides PAHCS's customers with ownership of the health care facility, said Moburg. "It's a two-way street," he explained. "It's an obligation as well as a commitment."
"The fact that it's Paynesville area says a lot. It's not just Paynesville but the whole area," said Moburg.
PAHCS is well positioned, Moburg thinks, thanks to the vision of LaCroix and the hospital board. This is one thing that gives PAHCS a viable, independent future. Another is the quality personnel, whom Moburg calls "high caliber" and "highly trained."
"It was really an exciting opportunity. It's got area to grow. It's really positioned itself well for the future," he said of PAHCS, which operates a 64-bed nursing home in Paynesville, a 30-unit congregate housing apartment facility for seniors, a 30-bed acute-care hospital. It also employs eight doctors, has a main clinic in Paynesville and four satellite clinics in neighboring towns, and has 65 outreach physicians that visit its hospital each month.
PAHCS is currently working on a $7.5 million construction program and purchased two nursing homes from the Good Samaritan Society this summer: the 48-bed Good Samaritan Care Center in Paynesville (now Washburne Court) and the 65-bed Hilltop Good Samaritan Center in Watkins (now the Hilltop Care Center).
While still acclimating himself with the operation, Moburg already sees some challenges, such as finishing the construction project, "digesting" PAHCS's recent growth, and improving the district's financial situation. While PAHCS continues to run profitably, its cash flow has been strained by its expansion. Other challenges include improving reimbursement, developing new services, and implementing strategic plans.
Moburg will have LaCroix's help for the first two months as he learns the system and gets acclimated to his new position. LaCroix's contract calls for him to work with Moburg until mid-November. After that, LaCroix has a one-year consulting contract so the hospital board and Moburg can call on him if they need his help or advice.
Outside the office, Moburg enjoys outdoor activities, including camping. He likes the lakes in the Paynesville area and hopes to have the chance to fish more.
Moburg's family will be moving from Boscobel, Wis., where he worked for Boscobel Area Health Care from 1995 to 2001. His wife, Janell, manages the county social work department there. They have two daughters, Alicia, a senior, and Jennifer, an eighth grader.
---
Contact the author at editor@paynesvillepress.com • Return to News Menu
Home | Marketplace | Community
---