For sharing his musical talents, David Stumo was recognized last week by the Paynesville Lions Club as its Citizen of the Year for 2002.

The Lions Club established the award in 1977 and have recognized 18 citizens in the quarter century since then. Recipients must do community-wide volunteer work and cannot be a member of the Lions Club, according to Ron Iverson, chairman of the selection committee.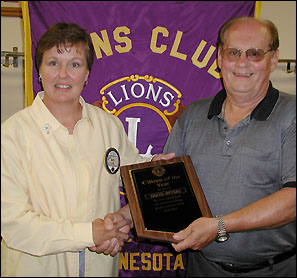 Stumo, who came to Paynesville in 1970 to teach choral music at the high school, keeps active in retirement through music. For ten years, he has provided the music at Sunday morning worship services at the Koronis Manor, where he assists Harvey Schaumann. For the past year, he has also led a half hour weekly Bible study, with music, of course, on Monday nights at Washburne Court.
Barb Elseth, president of the Paynesville Lions Club, presented David Stumo with a plaque recognizing his selection as the club's Citizen of the Year for 2002 at a club meeting on Monday, Sept. 16.
Just as important as the music, he thinks, is visiting with the residents. For three years, Stumo has led a Christmas choir at the Paynesville Area Center. The choir starts practicing in October and performs in December. Last year, they rehearsed for eight weeks and then gave 10 concerts, including trips to Litchfield and New Prague.
Last spring, Stumo directed a mass choir from area churches, who performed a benefit for the local food shelf. Stumo also sings in a local eight-man ensemble who sing mostly at local churches, and he sings in the 50-member Litchfield Area Male Chorus. He is also a prayer group leader at his church, Crystal Hills Assembly.
While he is honored by the award and thankful that the Lions have the program to recognize volunteer efforts, Stumo downplays his efforts. "I don't know that it's that big-hearted," he explained. "It's just stuff that I like to do."
"When I see a job I can do, I do it," he added. "Most jobs (that) I see I can't do."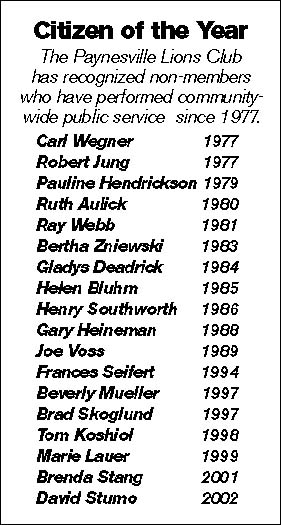 Stumo, who grew up in northern Iowa, 16 miles from Albert Lea, credits his parents for instilling his volunteer spirit and developing his musical skills. On the farm, it was commonplace to help others, like when a neighbor might need help harvesting the crops for some reason and the whole neighborhood would turn out to do the work. Being helpful was expected, said Stumo. "Nobody ever thought of getting awards for that," he said. Stumo's father got him and his siblings started in music by buying instruments at auctions and giving them to the kids to learn to play. Lessons weren't an option. They were "too stupid to know we needed lessons," said Stumo with a trademark laugh.
The Lions Club has recognized 18 citizens since the Citizen of the Year award was established in 1977.
In the family band, Stumo played accordian, while one brother played violin, another played harmonica, a sister played guitar, and mom sometimes sat in on the piano. Stumo said the origin of his family's musical talent became obvious in the 1990s when he and his wife, Clarice, herself an elementary music teacher in Paynesville for nearly 30 years, visited Norway. Dave's family had numerous church musicians.
While attending a music college in Minneapolis, Stumo would play piano at skating rinks, at piano bars, and at churches. One church, when needing music at the last-minute for a wedding or funeral, would come to the college and ask some of the music college students to play for $5 a song.
Stumo taught music in Wisconsin for one year, in Truman for six years, in Paynesville for seven years, and in Albany for 20 years. In between his teaching stints in Paynesville and Albany, he also worked full- and then part-time as a counselor for unwed parents.
In his retirement, he substitute teaches up to two days a week and keeps active in music through his volunteer efforts. He doesn't see this as work, though, citing the mass choir last spring as an example.
"Everyone thinks that's work," he said. "It wasn't work. It was a good time."
---
Contact the author at editor@paynesvillepress.com • Return to News Menu
Home | Marketplace | Community
---