Pat Anderson Awada, the current mayor of Eagan, stopped in Paynesville last week while campaigning for state auditor.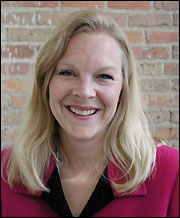 Awada, who served on the city council in Eagan from 1991-1998 and has served as mayor for the four years since then, is the Republican candidate for state auditor.
Pat Anderson Awada stopped in Paynesville last week while campaigning for state auditor.
She believes that the best state auditors - like Arne Carlson, who later served two terms as governor - have come from local government and that her background makes her an expert at that. "I know everything there is to know about city government," she said, especially finance, citing 11 years handling city finances, including TIF districts and Local Government Aid.
And county finances are similar, she said.
As the taxpayer's watchdog, the state auditor is charged with monitoring the expenditures and finances of city and county governments and school districts across the state. The auditor does not have the power to prosecute, but can forward any irregularities to the state's attorney general.
Awada - who has a bachelor's degree in international relations and economics from the University of Minnesota, a master's degree in public administration from Hamline University, and has also run private businesses - thinks the auditor's office has a particularly important role to play in school financing, since the sides in the debate over the school funding seem to be using different numbers, making the argument confusing. As auditor, she said she would conduct apples-to-apples comparisons so the public could see if schools are indeed "a black hole" for spending or if school funding from the state has been inadequate.
"It's the auditor's role to let people know what's happening with the money," she said.
She also would hope to have a good working relationship with local governments, not an adversarial one, and that they would feel comfortable calling the auditor's office for advice if she was elected. Having run a city government with 300 employees, Awada is confident she can handle the 150-member auditor's office, with mostly accountants.
She is trying to replace DFLer Judi Dutcher, who won election as state auditor twice as a Republican before switching party affiliation. The state auditor is traditionally a Republican position, said Awada, because it is merely oversight and financial conservatives seem better for the role.
Awada will face DFLer Carol Johnson, Green candidate Dave Berger, and Independence Party candidate Dave Hutcheson in the November election.
---
Contact the author at editor@paynesvillepress.com • Return to News Menu
Home | Marketplace | Community
---