Homecoming candidates announced
This article submitted by Linda Stelling on 9/24/96.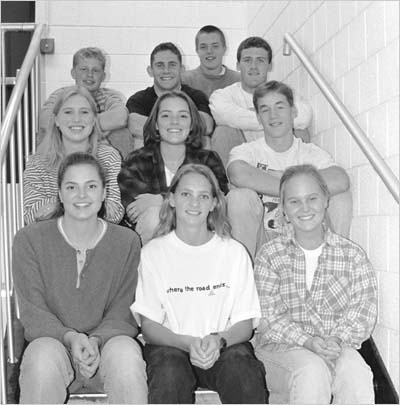 Competing for the honor of Paynesville Homecoming king and queen are (front, left to right): Michelle Glenz, Amanda Lieser, Sarah Nelson; (row two) Brynna Klinghagen, Emily Glenz, Zach Welle; (row three) Grant Bowden, Brandon Wensmann, Jesse Spates; and (top) Casey Meagher.
Coronation will take place on Monday, Sept. 30 at 8 p.m. in the high school gym. Underclassmen serving as escorts are Bill Stanger, Jen Roberg, Brent Heinen, Mackenzie Merrill, Jeff Voss and Tiffany Haag.
During Spirit Week, students will be dressing up on different days. Monday, Sept. 30, is Wake Up Day where students will wear their night wear to school; Oct. 1 is Army-Hunting Day, wear some green or camauflage to school; Oct. 2 is Career Day, wear what you would to work; Oct. 3 is Blast from the Past, wear something old; Oct. 4 is Dress-Up Day for 9th through 11th graders as they will be having their school pictures taken and Dress Down Day for seniors.
On Friday afternoon at 1:15 p.m., the junior boys will take on the seniors in a volleyball game. The winners will play the teachers. At 1:45 p.m. there will be a pep fest in the school auditorium. At 2:25 p.m., the students will head outside for the girls powder puff football game.

[ Return to Previous Menu | Archived Press Stories Menu | Return to the News Page ]
---