Tram Ahn Tran made her first trip away from home and outside of Vietnam when she flew to Minnesota in August to spend a year as a foreign exchange student. She is living with the Mike and Sandy Noonan family and attending Paynesville Area High School.

Tram Ahn, from Ho Chi Minh City, actually graduated already from high school in Vietnam, in June 2003, but she wanted to come to America and wants to go to college here, too. She has wanted to come to America on a student exchange since she was in grade ten, she said

. "I wanted to know something about American culture, and I want to get used to American life," said Tram Ahn. "And I want to practice my English more."

Tram Ahn has studied English for three years in school. She likes studying it because it is the most international language, but it is not studied by all Vietnamese students. French, Chinese, and German are also popular.

She arrived in Paynesville in early August and spent time swimming, camping, boating, shopping, and using the computer, including e-mailing home, while getting adjusted and waiting for school to start.

Surprises for Tram Ahn in adjusting to life in Minnesota start with food. "That was a major hurdle," said Sandy, who was concerned that Tram Ahn was not eating enough when she first arrived. Turned out the food was too sweet, and not spicy enough for her. She now liberally uses salt and pepper when she eats.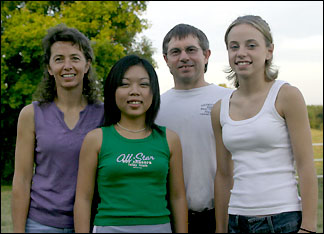 (Tram Ahn has cooked a dish just once so far for the Noonans, who said they could only eat a few bites because it was so spicy.)
School has required other adjustments. In Vietnam, students stay in one classroom, and the teachers rotate to different rooms to teach. They do not have lockers at her school, said Tram Ahn, but students do have to wear uniforms.
The Noonan family is hosting Vietnamese exchange student Tram Ahn Tran for this school year. Pictured overlooking their horse pasture in rural Paynesville are, from left, Sany Noonan, Tram Ahn Tran, Mike Noonan, and Kelsey Noonan. Not pictured are Kristy and Pat Noonan.
Tram Ahn also had to adjust to the schedule in Minnesota. In Vietnam, due to the tropical heat, people work (or go to school) in the morning, then come home for lunch and a nap, and then go back to work. Tram Ahn napped everyday until the week before school, when Sandy forced her to get used to not having a daily nap.
To accommodate this schedule, her school in Vietnam starts at 6:45 a.m. and ends at 11 a.m. They have five class periods each day and study 11 subjects in all, including chemistry, physics, biology, geology, history, literature, English, government, and sports. The students go home for lunch and a nap, and then they get extra, private tutoring in the afternoon.
Tram Ahn has also had to adjust to the Minnesota weather, which she thought was cold when she arrived, even though the temperature in August was in the 80s. "She's never seen snow, so that'll be fun," said Mike. "We told her we'll borrow her nice, warm boots." The family plans to take her snowmobiling and tubing in the snow, when winter comes.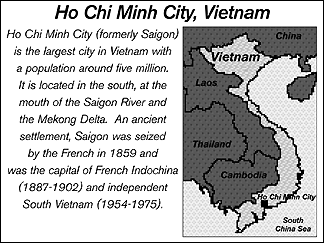 Tram Ahn is also used to living in Ho Chi Mihn City, which has around five million inhabitants, so she is learning about living in a rural place like Paynesville, where everyone drives a car (in Ho Chi Mihn City people drive motorcycles) and there is space, and trees, between the houses.
In Ho Chi Mihn City, people only keep pets, and Tram Ahn has seen her first horse in Minnesota, though she has not ridden one yet.
The Noonans have had a number of foreign exchange students over the past decade, starting with two Japanese girls through church and also including boys from France, Spain, and Germany. These students stayed for a couple weeks or a couple months, though, so this is the first time the family has hosted a foreign student for an entire year.
"I think it's a great experience to learn about different cultures," said Sandy about hosting foreign students. And, this way, you don't even have to leave home to learn about places around the world, she added.
Kelsey, a ninth grader at PAHS, is glad to have Tram Ahn, she said, because her siblings (Kristy in 2001 and Pat in 2003) have graduated. Kelsey likes having Tram Ahn in the house, or "I'd be by myself," she said.
At PAHS, Tram Ahn is taking art, analysis, economics, foods, German, and writing. In Vietnam, she has participated in swimming and gymnastics and plans to try out for the danceline at PAHS.
While many Americans still might first associate Vietnam with the way America fought there in the 1960s and 1970s, Tram Ahn, 18, said she has only read about the war in history class. After all, it ended ten years before she was born.
She said the economy in Vietnam, a Communist country, is now developing, with foreign businesses being welcomed to Vietnam. Reforms loosening the country's central controls started in the late 1980s, and the United States ended a 19-year embargo on Vietnam in 1994.
Tram Ahn's parents manufacture handbags in their home. She also has a 15-year-old brother. She got a scholarship to come on the exchange program to America and considers herself very lucky to have this opportunity.
During her year in Paynesville, Tram Ahn hopes to earn a scholarship to an American university. But after getting a college degree, she wants to return to Vietnam and "use my knowledge to help my country."
---
Contact the author at editor@paynesvillepress.com • Return to News Menu
Home | Marketplace | Community
---