After enduring 130 degree temperatures for months, the 60 degree temperatures that greeted Mark Leyendecker in the Twin Cities upon returning from Iraq felt cold. Used to the desert heat, anything under 80 degrees was a shock to his system, he said.

The desert heat was like having a furnace blowing on you, with a little sand thrown in, said Leyendecker, a sergeant and the noncommissioned officer-in-charge of the Willmar detachment of the Army Reserve's 825th Quartermasters.

In the mornings, he woke up with muscle cramps because he was dehydrated from the night heat. Before getting out of bed each morning, he drank a liter and a half of water then waited for his cramps to subside. He drank another liter and a half of water with his breakfast and another liter after that had him ready to face the heat.

On an average day in the Middle East, where he was stationed for three months, he drank gallons of water.

In fact, Leyendecker attributes his 40-pound weight loss to the heat. The heat reduced his appetite and made his body use more energy to perform physical tasks, he said. Part of the weight loss he attributes to dehydration, since he has gained 20 pounds back since returning home in July.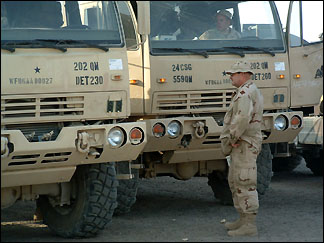 The 825th Quartermasters is trained to purify and distribute water. Based at a camp in Kuwait, the unit's job was to provide water to soldiers in Iraq. Initially, the unit was supposed to build a pipeline to supply water to camps and bases in southern Iraq, but since a pipeline could be damaged Ð either by gunfire or bombs Ð or could act as a conduit for biological weapons, it was decided to haul water into Iraq using large tanker trucks.
Sergeant Mark Leyendecker inspects trucks that members of his reserve unit will use to haul water from Kuwait to Iraq. Leyendecker returned home in July after spending three months in the Middle East
Leyendecker's unit hauled the water that soldiers used for everything from showers to laundry. They also provided troops with bottled water for drinking.
When the unit first went into Iraq in April, it was welcomed by Iraqis on the street, said Leyendecker, and signs on the road even welcomed the U.S. troops. Children chased the trucks, begging for food because they saw U.S. soldiers as friends. But by the end of his deployment in July, the unit's welcome evaporated as snipers became a problem.
Even though there were no casualties from Leyendecker's unit, the men had to stay alert because sniper attacks occurred almost daily. Just changing a tire (which blew out frequently because of the heat) left the soldiers vulnerable to snipers, he said.
Dealing with the snipers was harder than fighting the war, according to Leyendecker. With snipers, you never know who the good guys are and who the bad guys are, he said.
Leyendecker's unit had most of the comforts of home at their camp: a television, a DVD player, and three computers for e-mailing home. The electronics, though, were hard to keep working because of the constantly blowing sand. The men learned to place all of their electronics in plastic bags.
And their unit had plenty of water. They always got to do their laundry and take showers. They even shipped a washing machine to the Middle East with their gear.
Toward the end of the deployment, the unit had air conditioners in their tent, which not only provided cool relief, but allowed them to close the flaps and reduced the amount of blowing sand.
The unit also had a telephone because of a stroke of good fortune, said Leyendecker, who found a phone line in the desert, which his men were able to rig to their tent and have a working, private telephone.
Before that, they were forced to stand in long lines for hours to use a phone to call home and wait for lots of things at the base. "There were lines for everything," Leyendecker said. "Lines for phones, lines for computers, and lines at the PX." They even waited for mail to arrive. Leyendecker's unit was fortunate to return home so soon. In early June, another unit arrived in the Middle East. It could have relieved their unit or another one, but their equipment was closer to the coast and easier to get home, so they got to come home after three months.
"We were in the right place at the right time," said Leyendecker, whose unit arrived in Willmar on Saturday, July 27. Being home has been wonderful, said Leyendecker, who appreciated the warm response from passengers on their plane rides home and the welcome home, with a parade, in Willmar. He knows he missed a lot, including his son Adam's graduation from PAHS in June, but he understood why he had to go to the Middle East and would be proud to do it again, he said.
Leyendecker believes that some people tend to take freedom for granted but seeing conditions in Iraq made him appreciate freedom even more.
When Leyendecker isn't on active duty, he is a civilian employee of the Army Reserves. While he was activated, his pay was higher than his civilian pay, so he will have to adjust to a loss in income, he laughed.
---
Contact the author at editor@paynesvillepress.com • Return to News Menu
Home | Marketplace | Community
---