Plowing is a family affair for Conrad Gruber. His father - who is also a plowing champion - and his mother introduced Gruber and his brothers to the sport when he was still a youngster.

Recently, Gruber earned the opportunity to represent the United States in the world plowing competition in Prague, Czech Republic, in October 2005, a milestone that will mark his fourth - and last - world competition.

Gruber, a dairy farmer by Spring Hill, started competitive plowing over 20 years ago when he was still a kid. Because his family was already involved in competitive plowing - his father, Werner, has competed in the world competition four times - entering his first local competition was only natural, he said.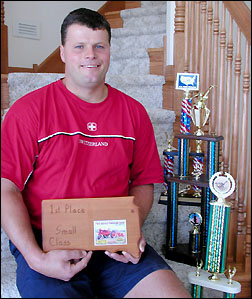 After winning at the county and national levels, Gruber entered his first world competition in New Zealand in 1994. In 1997, he represented the U.S. in Australia, and in 2000, he competed in England.
Conrad Gruber of Spring Hill recently qualified to complete in the world plowing competition in Prague, Czech Republic, in October 2005.
"It's a stressful hobby, especially at world competitions," said Gruber. During a competition, plowers are judged on their ability to plow straight, clean furrows. They must concentrate on digging deep enough (without going too deep), while leaving furrows evenly spaced. When completed, no vegetation can show, and the rows must be very neat.
A typical world-level competition lasts several days, and competitors spend several days getting used to the equipment and the soil conditions. At worlds, competitors usually rent tractors that are unfamiliar and they work in unfamiliar soil conditions, which makes a good showing more difficult than in local competitions, said Gruber.
Gruber doesn't let the stress defeat him, though. His goal is not to win but to make a good effort and to use world competitions to help promote the sport. Because the U.S. lags behind Europe in competitive plowing, he believes it will be some time before a world champion emerges from this country.
"When I'm there, I represent the U.S.," he said.
The last time he competed in the world competition, Gruber placed a respectable 28th out of 46, he added. Gruber also looks forward to world competitions because they provide a great opportunity for him and his wife Sandra, who usually accompanies him during competitions, to travel and to meet people from all over the world, he said.
The couple has made friends from Ireland, Australia, and Zimbabwe, as well as other places, which makes each competition a reunion, said Gruber. And during the competitions, politics don't exist, he added. For instance, Irish plowers come together, regardless whether they are from the north or south.
After Gruber competes in the Czech Republic, he will be ineligible from any more world competitions because U.S. rules only allow competitors to advance four times. However, he hopes to attend the next world competition to coach his brother, Gene, who has already competed at the world level twice.
As a coach, Gruber hopes to have more time to socialize and visit Ireland in 2006.
And after Gene has maxed out his time at world competitions, there's always Gruber's kids: Bryce, 5, and Savannah, 3.
Savannah is too young to appreciate her father's feats, but Bryce is one of his father's biggest fans. During local competitions, Bryce's job is to measure furrows and keep his father informed about conditions. He also keeps track of the trophies and plaques his father wins. Whether Bryce will follow his family's footsteps, his father doesn't know yet. But Gruber hopes that someone does.
Competitive plowing offers great opportunities for travel, meeting farmers from other places, and learning about farming around the world. Gruber wants others to get the same pleasure out of plowing that he does and is willing to help others who want to try competitive plowing.
---
Contact the author at editor@paynesvillepress.com • Return to News Menu
Home | Marketplace | Community
---