When back-to-back hurricanes hit Florida within a month, Roger and Carol Dreyling of Paynesville found that their home in Punta Gorda, Fla., was damaged.

On Friday, Aug. 13, the eye of Hurricane Charley - a category-4 storm with winds that exceeded 145 miles per hour - made landfall just two miles west of Punta Gorda.

During the storm, the Dreylings' roof was damaged, and the doors blew off, allowing water from the storm to pour into their home. They also lost nearly all of the large trees on their property, some of them old oaks. The Dreylings -╩who split their time between Lake Koronis and Florida - replanted and secured some of the smaller trees with wood and cables.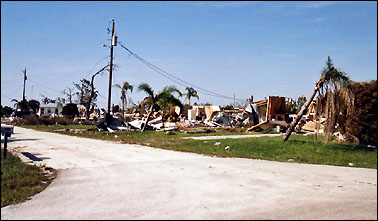 Within days of the storm, the Dreylings were on their way to Florida to assess the damage to their property. Fortunately, according to Carol, their daughter Vicki Copley, a carpenter who lives near Ft. Lauderdale, was able to get there sooner to make emergency repairs. Carol was glad that she wasn't the first to witness the damage to her home.
After Hurricane Charley hit Florida in August, debris lined the streets near the Dreyling's home.
In spite of the damage to their home, the Dreylings consider themselves fortunate that the damage wasn't much worse. Some of their neighbors weren't so fortunate, said Roger, a retired physician. With a large number of mobile and modular homes in Florida retirement communities, many homes were devastated, he said.
The hurricane damage was sporadic, he said, and some of the damage was worse than it appeared. Some homes that appeared to be undamaged had the word "condemned" written across their front because of structural damage from water pouring inside, he said.
As Roger drove the streets near their home, he noted metal everywhere. "It truly looked like a scrapyard," he said, with debris littering the once tree-lined streets.
But what struck Carol the most wasn't the damage that Hurricane Charley left behind, but the way the community banded together to care for each other. "People became more compassionate and helpful," she said. Service organizations provided meals for residents without electricity or kitchens, and a local home improvement store opened, despite not having electricity, so customers could purchase emergency repair supplies. The store even handed out pop to customers, who were forced to bear 100-degree temperatures while making emergency repairs. One grocery store gave bouquets of flowers to cheer customers who came for free water.
Neighbors helped each other out, even in communities that weren't close-knit, said Roger. Charley provided an opportunity for neighbors to get to know each other, he added. They also consider themselves fortunate that looting and price-gouging that took place in other neighborhoods, didn't happen in their community.
When Hurricane Francis - a slow-moving category-2 storm - hit Florida's east coast on Monday, Sept. 6, just three weeks after Charlie, the winds picked up the debris left behind from Charley and hurled it through the air like shotgun shells, causing more damage, said Carol. Though the winds weren't as deadly as Charley's, Francis was bigger and slower-moving than Charley, and dumped a deluge of water onto the state.
When Hurricane Francis turned toward the Florida coast, the Dreylings were still in Florida working on their home while living in their RV. Because they feared the RV would be no match for a hurricane, they evacuated to Georgia, where they waited for news from their daughter.
Even though many residents in her community didn't evacuate for Hurricane Francis, Copley took refuge in her parent's damaged home, without electricity or running water, because she felt it would be safer than her own home.
Copley's home was damaged, but not seriously.
The Dreylings were concerned when Hurricane Ivan began approaching Florida recently. If that storm, which hit the gulf coast of Alabama, Louisiana, and the Florida panhandle last weekend, had hit Florida's east coast, Roger believes it would have compounded the damage.
Now the Dreylings and other current and former Paynesville residents with property in Florida face the difficulty of repairing their homes without materials or construction crews. Emergency crews have worked tirelessly to restore power and other utilities, said Carol, but when they were in Florida after the storm, they noted that stores had run out of plywood and shingles.
Roger can't find a contractor to make repairs to their home, and he fears it may be months before one becomes available. He believes the recent storms will hurt the Florida economy and that people will leave the state and not return, he said. The Dreylings, however, are committed to finding a contractor to repair their home, so they can return to Punta Gorda.
---
Contact the author at editor@paynesvillepress.com • Return to News Menu
Home | Marketplace | Community
---