Football, admits former Viking Jeff Siemon, used to be the god of his life. While at Stanford University, before becoming a first-round draft choice of the Vikes and a four-time Pro Bowler, Siemon injured his knee and had to contemplate a life without the sport he loved. That led him to a deeper relationship with God.

"My faith in Christ, which for me began my first year in college, became the most important thing in my life," he explained.

Since finishing his 11-year career with the Vikings and earning a master's degree in Christian apologetics, Siemon has served for 20 years as director for Search Ministries, a nondenominational organization that works with churches and focuses on men's ministry.

On Saturday, Siemon will be the keynote speaker at Paynesville Lutheran Church, which is hoping to form a men's outreach. The event includes a free workshop at 3 p.m. with Siemon leading two 40-minute sessions, with a short break between them, on "Developing Faithful Men of God in the 21st Century." A spaghetti dinner will start at 5:30 p.m., and Siemon will talk about "The Measure of a Man," starting at 7 p.m. Tickets for the dinner and evening talk are $10, with proceeds going to help form the men's ministry outreach at Paynesville Lutheran Church.

Siemon grew up in a nominally Christian home in California where religion was "something you did" and was treated very routinely and without deeper meaning. Then, at Stanford, Siemon found a deeper meaning to his religious faith through a combination of personal setbacks (including a knee injury that forced him to think for a time that he might never play football again), a girlfriend who had a religious experience, and a surprise visitor. The visitor actually wanted to take Siemon's roommate to a meeting for the Campus Crusade for Christ, but Siemon said he knew immediately that he was really meant to get him to come.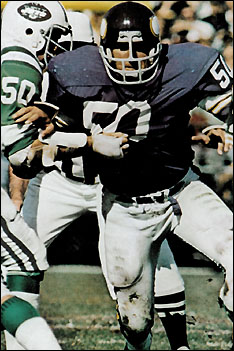 After becoming involved in campus ministry, Siemon said he saw life through "a different set of spectacles." "Football had really served as the god of my life, so when it was taken away from me, I really had to ponder the meaning of life," he said.
Jeff Siemon - who played for the Minnesota Vikings for 11 years - will be speaking about his faith at Paynesville Lutheran Church on Saturday.
"As I grew with my faith, I found there were lots of people like me, so I thought I might be able to help direct people to a similar relationship," he explained.
After enjoying an 11-year NFL career as a linebacker, including three Super Bowl appearances with the Vikings in the 1970s, Siemon wanted to do something with ministry and feels fortunate to have found a career where he can share his ministry and express his faith.
While he normally talks about general outreach and evangelism, Siemon described his topics for Saturday at Paynesville Lutheran as addressing the crisis of manhood in America, and how men can recapture God's original intention to be servant leaders. The "feminization" of society, he explained, has reduced men to mere breadwinners, and he will discuss ways to be the right kind of father, friend, and leader.
The event is nondenominational. To become a Godly man is universal, said Siemon. "The hope is that I will strike a chord with them," he added.
---
Contact the author at editor@paynesvillepress.com • Return to News Menu
Home | Marketplace | Community
---