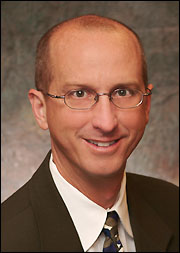 Dr. George Morris, who spent six weeks at the Paynesville Area Health Care System during his residency, has returned to practice medicine. Dr. Morris will split his time between the Paynesville Area Medical Clinic (one day) and the Chain of Lakes Medical Clinic in Cold Spring (three days) when this new clinic opens in November.

Dr. George Morris started as a family practice/sports medicine doctor with the Paynesville Area Health Care System in August.

Dr. Morris grew up near New Prague; attended St. Cloud State University, majoring in biomedical science; and attended the University of Minnesota Medical School, graduating in 1995. He completed his residency at the St. Cloud Hospital through the Mayo Clinic's family practice residency program in 1998.

In 1997, during his residency, he did a six-week rotation in rural family medicine under Dr. Tom Sult at PAHCS. "Even from St. Cloud, this is a different way to do medicine," he said.

After his residency, Dr. Morris served four years in the Navy: two years at Guatanamo Bay, Cuba, two years in Maine, and a short stint in Connecticut. He currently serves in the Navy Reserves.

After being discharged, he completed a year residency in sports medicine in Milwaukee and a year of family practice in Anoka.

When he learned that PAHCS was planning a new clinic in Cold Spring and had an interest in adding someone with a background in sports medicine, it seemed like a good fit, said Dr. Morris, whose wife is from Cold Spring originally. They wanted to raise their four young kids in a smaller town and to be closer to family, he said.

He remembered PAHCS as a good facility, he added, and still knew several of the doctors in the Paynesville Medical Group from that residency rotation.

Dr. Morris said he likes family practice because of the variety of cases - "I always liked that you are looking at the whole person and address a lot of issues," he said - and he was attracted to work in a smaller town because he grew up in a town where the doctors knew their patients as people, not just as medical charts.

He decided to become a doctor during his second year of college because he wanted to: (A) help people; (B) challenge his brain thru a career that demands lifelong learning; and (C) use his God-given talents.

An avid runner - he ran two marathons this year - Dr. Morris likes sports medicine because it focuses on health through activity, he said. The extra training for sports medicine focused on the muscular/skeletal system and learning about injuries like sprains, strains, and fractures. Dr. Morris is volunteering this fall on the sidelines of home football games at PAHS and at Rocori.

Sports medicine, he said, treats repetitive injuries as well as acute ones. Whether the patient is a high schooler trying to get back on a competitive playing field or a retired person trying to resume a hobby, Dr. Morris likes sports medicine because the active individuals are highly motivated to resume their active lifestyle. His goal, he said, is to avoid saying "no" to a sport or activity and instead trying to help them get back at it.

Dr. Morris's day in Paynesville should be split between covering call and sports medicine. Paynes-ville patients might also see him during visits to the emergency room when it's his turn for night or weekend call.

He and wife, Mary Kay, have four young kids and bought a house in Cold Spring in August. In his spare time, he likes to play with his kids, to run, and to play other sports like hockey and golf.
---
Contact the author at editor@paynesvillepress.com • Return to News Menu
Home | Marketplace | Community
---