Possibly the first foster care home for people with physical disabilities is coming to Paynesville, driven by the need of a local family.

On Monday, a ceremonial groundbreaking was held for the four-bedroom home, with actual construction set to begin next week.

"The Gary and Randy Olmscheid families have been the drivers of this project," said Steve Bresnahan, executive director for Catholic Charities. "It was because of the need to find a suitable living arrangement for their brother, Dennis, who had been severely injured in an accident, that Catholic Charities became involved. We're pleased with the building plan that has been developed from the Olmscheid's initial proposal and very pleased that Dennis will be one of our first occupants."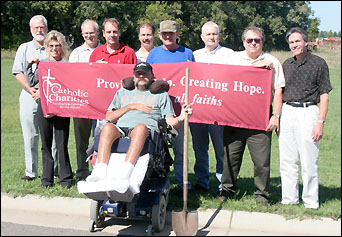 Dennis Olmscheid, who will turn 48 this week, was rendered a quadriplegic due to spinal cord damage he suffered in an auto accident in July 2003. After the accident, he spent four months in the hospital and nine months at Courage Center in Golden Valley, a rehabilitation facility that would eventually inspire this new foster care home.
A groundbreaking ceremony was held on Monday for a new foster care home in Paynesville. Pictured are: (front) Dennis Olmscheid; (middle) architect Marjorie Spaeth, Randy Olmscheid, Gary Olmscheid, Catholic Charities executive director Steve Bresnahan, and Larry Sell of Catholic Charities; (back) John Krueger of Catholic Charities; Jim Rudolph of Catholic Charities; city administrator Steve Helget; and city council member Tom Lindquist.
Dennis, said his brother Randy, is too young to spend the rest of his life in a nursing home and values his independence too much. The family looked into building a house for Dennis, who has lived at the Koronis Manor for the past year, but found it was not feasible. Then they started contacting organizations that might be able to help Dennis and others with similar conditions.
According to John Krueger, residential services director for Catholic Charities, whose department will manage and staff the complex, the Olmscheids worked directly with Catholic Charities to research and develop the building plan. The house, according to Krueger, will include the latest in accommodations for the physically disabled: extra-wide doors, roll-in shower; and appliances and electrical outlets designed for wheelchair accessibility. An electric lift and other adaptive and therapeutic equipment, purchased by the Olmscheid family, will be used by the residents, added Krueger.
The foster care home will look like a residential home in a residential neighborhood, said Krueger; only it will be oversized to accommodate the physically disabled. The 4,000 sq. ft., four-bedroom home, located in Wilglo Acres, will be one level with a two-car garage and patio out back. The 15' by 15' bedrooms for each of the four residents will have insulated walls to provide more privacy for the residents.
The foster care home will have 24-hour staff and an office for that staff. Catholic Charities operates 40 programs in 16 counties in central Minnesota. Its residential and day programs include supervised living homes for people with developmental disabilities - four homes in Cold Spring and one in Waite Park - but this will be their first home for physically-disabled people.
This also will be the first housing operated by Catholic Charities in Paynesville. Currently, the closest housing services by Catholic Charities are apartments in Belgrade and Richmond.
Catholic Charities expects to make this new foster care home in Paynesville a state-of-the-art facility, said Larry Sell, manager of the in-home and residential developmentally disabled services program for Catholic Charities. The goal is to provide the physically disabled with a home-like atmosphere.
The family, said Randy Olmscheid, hopes this home will benefit not only Dennis, but others who need similar help as well. The home should provide more privacy for Dennis, a better social environment, and the option for his daughters to stay with him.
Randy said they hope the home could be a template for Catholic Charities to help people with physical disabilities. "They're hoping, if this works, they might build a whole bunch more," he explained.
"Catholic Charities is very happy to extend our mission of service to this community," said Krueger. "We have no idea how many individuals are facing challenges similar to Dennis's. Our goal is to integrate these individuals back into the community through a supportive, home-like setting that is staffed 24 hours a day to meet their unique needs while helping them to become as independent as possible."
The new foster care home should open in February or March, said Krueger.
Most residents, said Sell, will come from referrals from the county, as most people utilizing this type of residence will be eligible for government aid. Anyone wanting more information about the facility or to inquire about being a private-pay patient can contact Catholic Charities directly at 320-650-1550.
---
Contact the author at editor@paynesvillepress.com • Return to News Menu
Home | Marketplace | Community
---