Paul Voss, Class of 1982, starred in football and track for the Bulldogs before excelling at both sports at St. Thomas University.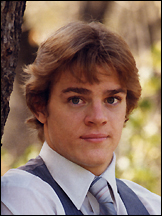 In track for the Bulldogs, Voss is one of three PAHS athletes to earn three medals at state. He was All State as a junior in the intermediate hurdles (finishing fourth) and as a senior in both the hurdles (taking fifth) and in the long jump (fourth).
He won seven conference titles his sophomore, junior, and senior track seasons; seven district titles (and three runner-up finishes), including four firsts in four events his senior year; and earned eight region medals in track, qualifying for state in three events as a senior. Recovering from illness and hurting his ankle in a hurdle preliminary, he medaled in both the 330-meter hurdles and the long jump his senior season in track.
He still holds four school records in outdoor track - the most by any PAHS male athlete - in the 200-meter dash, 300-meter hurdles, 400-meter relay, and long jump.
In football, he was one of three sophomores to letter on the 1979 Bulldogs team that reached the state semifinals, going 10-1. He then earned honorable mention All Conference honors as a two-way starter his junior year (when the Dogs went 6-3) and earned All Conference honors his senior year (when the Dogs went 2-1 in a season shortened by the teacher's strike).
He also was a standout hockey player during high school, though this was a club sport.
At St. Thomas, Voss earned four letters in both football and track. He started three years at wide receiver in football and finished his career in the top ten in receptions and yards. In track, he was All Conference six times, was the MIAC champion in the 200-meter dash, and was a national qualifier in the long jump.
Voss, who has earned a Ph.D. in English literature, is currently an associate professor of English at Georgia State University and a visiting professor at the Georgia Tech University School of Business. He also is the founder and president of Ethikos, a consulting firm specializing in business ethics.
Voss and his wife Mary live in suburban Atlanta with their five children.
What is your fondest memory from high school?
My best memories come from recalling all my teammates; even during the long practices, we still had time to laugh, play practical jokes, and enjoy the moment. Friday night football was, of course, exciting.
How did high school athletics prepare you for life?
Participation in athletics requires dedication, hard work, extra effort, teamwork, sacrifice, and responsibility. These same character traits are needed to be a successful husband and father, a co-worker or employer, and a man of faith. In short, high school athletics is a superb dress rehearsal for life.
Why do you consider yourself lucky to have graduated from PHS?
I think growing up in a small town has manifold advantages. I look back on my childhood and adolescence in Paynesville not only with nostalgia but a real sense of gratitude. I cannot imagine a better environment for young people. My mother and father took great pains to see that we traveled, saw the country, and witnessed other cultures. But the safety of Paynesville always provided a foundation upon which we could build.
---
Contact the author at editor@paynesvillepress.com • Return to News Menu
Home | Marketplace | Community
---