Joe Pung, Class of 1961, played football, basketball, and track at Paynesville High School, earning a scholarship to the University of Minnesota for football and eventually captaining the Gophers as a senior in 1964.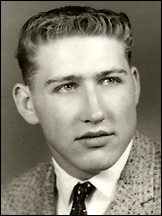 Pung grew up in St. Martin and attended the grade school there until eighth grade and then attending Paynesville High School.
He earned All Conference honors three straight years in football for the Bulldogs. He led them to a 4-2-1 record his senior season when he rushed for 933 yards on 131 carries (7.0 yards per carry average).
In basketball, Pung was a three-year varsity player and helped the Dogs win 16 straight games his senior year to reach the district finals, where they lost to Atwater 55-48. In track, Pung helped the Dogs win the West Lake Conference title his senior year when he ran on a 880-yard relay team that set a new meet record.
At the U of M, the Gophers won a national title during Pung's freshman year in 1961 (when freshmen were ineligible to play). Before his sophomore season, the middle lineback/center went from fourth to first on the depth chart in one practice. The Gophers went 6-2-1 his sophomore season, 3-6 his junior season, and 5-4 his senior year, when he was named team MVP.
During his collegiate career, more substitutions were allowed, ending two-way play, and he eventually started only at center.
He played in the Blue-Grey All Star Game after his senior season and mulled an offer to try out with the Chicago Bears. Instead, he earned his master's degree at the U of M and coached freshman football for the Gophers for four years.
Pung taught for over 30 years in the Osseo School District and worked as a sheriff's deputy for Chisago County. He is now retired near Braham, Minn., with his wife Vicki. They have three sons.
What is your fondest memory from high school?
My fondest memory is not of a specific athletic event but of the great support I received from people while playing sports. We had a family business in St. Martin that needed my help since my father had died. I did not have a car available to come home for practices or to go to the games.
So many people helped by providing transportation and meals. After every practice, one of the boosters would drive kids home. When a booster failed to show up, the coaches would often bring us home. I still remember the snowy nights when Dick Elliot would drive us home after basketball practice and smelling the stinky cigars he would smoke.
On game days the Schwandts (Jerry Liestman's grandparents), the Storkamps, the Sonstegards, and others would give me supper. People from St. Martin also gave me encouragement and support. That generosity made a lasting impression on me.
How did high school athletics prepare you for life?
Participating in sports helped to make me feel a sense of self-worth as a young person. Being able to participate in front of many people and being recognized by adults for my accomplishments was a healthy factor in my personal development.
Why do you consider yourself lucky to have graduated from PHS?
A couple of reasons come to mind. Because I was able to participate in so many sports and was successful in football to a larger degree, I received a scholarship to the University of Minnesota. Our family was in no position to pay for college tuition for me, so receiving the scholarship was a major factor in the direction of my life.
The most important impact, however, was not sports related. One of the girls in our school, the daughter of a pastor, was willing to share the love of Jesus Christ with me and challenged me to know Jesus in a personal manner. That challenge was fulfilled later in my life and is to this day the most important decision I have ever made or will make. It changed me dramatically and has given me more joy than any win or accolade I ever have received.
---
Contact the author at editor@paynesvillepress.com • Return to News Menu
Home | Marketplace | Community
---