Joel Fenske, Class of 1994, earned state medals in cross country and track during his PAHS career, as well as playing three years on the varsity basketball team, before leading the University of South Dakota to a national title in cross country.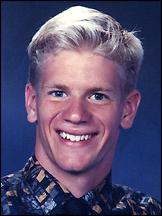 In high school cross country, Fenske earned All Conference honors four times, advanced to state individually three times, and led his team to state three times. He finished second at the conference meet as a ninth grader and sophomore and won the conference title as a junior and senior. He also won the section meet twice and placed second twice.
The Dogs advanced to state his ninth grade, sophomores, and junior seasons, placing fourth his junior year. He placed fifth individually at state as a sophomore, third as a junior, and second as a senior.
In track, he earned All Conference honors as a ninth grader, junior, and senior and advanced to state as a junior and senior, earning three state medals in track, joining fellow inductee Paul Voss and classmate Mike Hammer as the only three-time state track medalists in school history. He was fourth in the 3,200-meter run at state in both his junior and senior seasons and also placed fifth in the 1,600-meter run his senior year.
When he graduated, Fenske held the school records in the 1,600-meter run and 3,200-meter run. His record in the 3,200-meter run (9:39.4) still stands.
In basketball, Fenske played on the varsity starting as a sophomore. He scored more than 500 points in his career and earned All Conference honors as a junior and honorable mention as a senior.
He earned All American honors in cross country all four years at the University of South Dakota, becoming the first Coyote to do this. During his junior season, he finished seventh at nationals and led the Coyotes to the Division II team title. They placed third during his senior year, when he was 15th.
He also qualified for nationals in outdoor track once during his collegiate career.
Fenske and his wife Tina, also a Bulldog Hall of Famer, live in Farmington, Minn., with their four children. Joel is a chiropractor, with his practice in Burnsville.
What is your fondest memory from high school?
My fondest memory of high school athletics was our cross country team finish my junior year. It was such a good group of guys to train and compete with. We always had fun in practice and meets.
How did high school athletics prepare you for life?
High school athletics helped to lay a solid foundation for work ethic, time management, and interpersonal skills. I learned so much from my experiences then that are still applicable now. I'm grateful for the privilege to have participated and also thankful to my parents for allowing me to do so.
Why do you consider yourself lucky to have graduated from PHS?
PAHS was great for many reasons, but the most important to me was the hometown aspect which, especially now that we live in a much larger city, I can appreciate to a higher degree. I was involved with great coaches and great friends throughout my entire athletic career.
---
Contact the author at editor@paynesvillepress.com • Return to News Menu
Home | Marketplace | Community
---