On Thursday, Diane and Ron Mages opened the Garage Sale Place in downtown Paynesville.

Open on Thursdays, Fridays, and Saturdays from 8 a.m. to 6 p.m., the store features typical and non-typical garage sale items.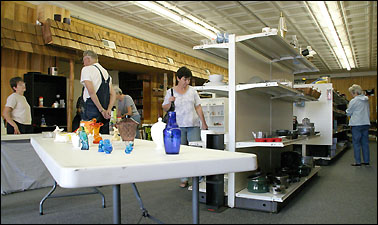 The Mageses buy and resell collectibles, furniture, tools, household items, clothing, electronics, toys, and more. "We'll try to have something for everybody," Diane said. They gather merchandise from estate sales and garage sales throughout the state.
Diane said that there have been opportunities when people needed to move quickly and could not hang onto some belongings. The Garage Sale Place provides the service of relieving people from their unwanted possessions, and those looking to purchase something specific may be able to find it there.
Diane Mages (far left) and her husband Ron have opend the Garage Sale Store - shown with a number of shoppers last week - in downtown Paynesville on James Street in the former Zapf Leather building.
No appointment is neccesary to sell items yet may be needed during busy hours or for larger items and multiple items. If clients are interested in specific items, they should ask, said Diane, who also has merchandise in storage.
Space will also be used to house furniture and other larger items.
In addition, homeade crafts by Teri Soderbeck, a friend of the couple, will be sold at the establishment in the upcoming months.
Diane said she enjoys garage sales and decided to turn that joy into a business. "We just kind of jumped in with both feet," she said.
She recently resigned from a position with a home builder and development company in the Twin Cities, which had her out of Paynesville four days a week. Now, she is home to run the Garage Sale Place with her husband.
Diane and Ron also farm south of Lake Koronis.
The couple rented the building at the beginning of the month, began setting up shop, and opened for business last week.
Collectibles such as antiques, native American drums, brass and wooden elephants, statuettes, seashell decor, and dishes are among the assortment of merchandise that is available. Items are being added every day, according to Diane.
A large stock of inventory was purchased in the Twin Cities area with the help of Diane's sister, who lives in Burnesville. Due to this extended source, "There are so many people of different ethnic backgrounds, and many unique items," Diane said.
---
Contact the author at editor@paynesvillepress.com • Return to News Menu
Home | Marketplace | Community
---