Six-year-old qualifies for national tractor pull
This article submitted by Michael Jacobson on 9/20/00.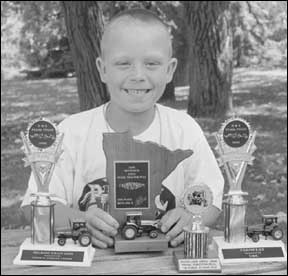 When Trent Blonigen gets behind the wheel of a tractor, he wants to run people down.

Blonigen, a six-year-old who just started kindergarten, likes to compete in pedal tractor pull contests. At each one, a worker stands in front of the tractor, preparing to bring the rig back to the starting line for the next contestant.

Despite the increasing resistance due to the shifting weight, Trent keeps pedaling, and he tries to "run the guy over."

Trent has yet to succeed in catching a walking man, but his ability at powering the tractor has yielded a shelf full of trophies over the summer and a trip to Omaha, Neb., this fall.

After winning four pedal pulls this summer, Blonigen qualified for the state pull at Hutchinson on Saturday, Sept. 9. There, he placed second in his age group with a pull of 27' 1". The winner pulled 27' 10", leaving Trent in second by nine inches.

"I still haven't driven him over," Trent said. "When I'm eight, I will with the big tractor."

Trent is the son of Kevin and Joan Blonigen of Paynesville.

Nationals in Omaha will be next Saturday, Sept. 23. Trent, his parents Kevin and Joan, and his five-year-old brother Travis plan to drive on Friday, stay overnight, and then watch Trent compete on Saturday. In addition to the competition, the boys are looking forward to the swimming pool in their hotel.

Tractor pulling has been a family affair all summer for the Blonigens, and the trip to nationals will be no different. Grandparents and relatives will be going, too.

Trent and Travis got their first taste of pedal tractor pulling at Town and Country Days in 1999. "They really enjoy it, and their cousins go, too," explained their mother, Joan. "They all really enjoy it."

Along with their cousins, Brooke and Kayla Olmscheid, they started competing at other pulls in neighboring towns. The families might see the parade, play games, or enjoy the carnival and shopping. The kids get to compete.

Trent and Travis' grandparents (Jerry and Jackie Blonigen and Stanley and Marian Olmscheid) also attend the pulls. Brooke and Kayla's parents are Terry and Diane Olmscheid of St. Martin.

Trent has earned first place at four tractor pulls in each of the past two years. A year ago he was first at Paynesville, Albany, Kimball, and Melrose. This year, he was first at Paynesville, Melrose, Richmond, and Redwood Falls. At Redwood Falls, Trent's goal was to get to the trophy table, but he stopped a little short.

Travis earned first place in his age group in Kimball last year and Belgrade this year.

All four cousins qualified for the state pull last year by placing either first or second at a local competition. Trent ended up just short of tenth place. This year, Brooke, Travis, and Trent competed at state.

Pedal tractor pulls are open to children between the ages of four and 11. Joan smiles when asked about five more years of attending pedal tractor pulls. She knows her sons enjoy the competition, but she isn't sure "if we'll go to this many, though."
---