Local teen takes to the stage
This article written by Kayla Hemingson on 9/20/00.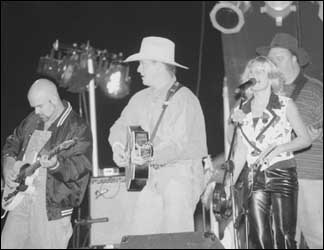 Chelsea Hartmann, a sophomore at Paynesville Area High School, does not have an ordinary job for a teenager. Already, at age 15, she sings in a country music band, Dixie North.

Hartmann (pictured at far right in the front) started by singing karaoke, which led to a gig with another country band, High Noon.

While performing with High Noon, she caught the attention of Neil Anderson, the lead male vocalist and acoustic guitar player for Dixie North. During her breaks she talked with Anderson, who was interested in her voice, and asked her to practice with Dixie North. After a few practices with the band, the members asked her to join them.

Her first night on stage with the band was May 5. "I was so nervous," Chelsea explained. "(To) see all those people watching you, I was just afraid to make a mistake."

For Dixie North, she sings and performs with five other band members. The band plays mostly country music. They sing a lot of cover songs, but also write songs of their own.

Right now, they perform mostly in the Alexandria area, where the band is based. Most of the members are from that area.

During her first five months with the band, Chelsea has already performed at the Roscoe Fun Days, at Cornstalk in Regal, and at the Minnesota State Fair in St. Paul.

Dixie North performed at the street dance in Roscoe in August, which drew a large crowd. The band also opened for Chely Wright at Cornstalk in late July. "That night was so awesome," Chelsea said. "It drew such a large crowd, and I was so excited to see them all out there."

Dixie North performed four times in one day at the state fair. "There was never a minute of rest, but we had a blast," Chelsea said.

Last Friday, they performed an outdoor concert at the grand opening of Queen Bee's Bar and Grill in Paynesville. Chelsea was happy to finally sing in her hometown.

Performing on stage is her lifetime dream. Now it has become a reality. "All I want to do is sing," Chelsea explained.

She has no back-up plan, and she states why: "I figure if you have a back-up plan you know you have something to fall back on. Whereas if you have a goal you're determined to get it."

The band plans on getting experience and hopes to become nationally known. They also hope to sign a record deal.

They are in the process of perfecting a compact disc to send out to record companies. This fall they are looking into recording another disc with all original songs.

Hartmann plans to be home-schooled, starting either the middle of this school year or next year. This is necessary because the band plans on touring.

Chelsea, the daughter of Larry Hartmann and Rhonda Larson, says her main supporters are her family, but they don't push her. She believes her main motivator is herself. She also said that Neil has kept her motivated.

Chelsea has many idols, but the person that inspires her the most is country music star Shania Twain. She respects Shania so much, mostly because Twain writes all her own music. Chelsea also loves Twain's personality.

Another country star that Chelsea idolizes is Faith Hill, because Hill is so down-to-earth, and her voice is like no other.

Hartmann can't believe she is living out her dream, and getting paid for it. "If the money wasn't there I wouldn't stop doing it, because I just love to sing," Chelsea explained.

Chelsea believes it is a total privilege to be singing in a band at the age of 15. She loves every minute of what she is doing.

This could be the start of a singing career for her, just a mere stepping stone to get closer to her dream.

Check the band out on stage or at www.dixienorth.com.
---