Traffic must stop for pedestrians in crosswalks
This article submitted by Linda Stelling on 9/20/00.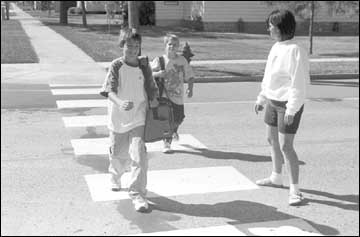 Each day around 3 p.m., Crystal Hukriede (shown here helping Jacob Putzke and Joseph Hukriede across the street) stands in the middle of Highway 124 to stop the traffic so her daycare children can cross the road safely after school.

Despite the markings and despite a law that requires drivers to stop when a pedestrian is in a crosswalk, Hukriede says cars won't stop for the children to cross Highway 124, which is also known as Lake Street. She would like to see more enforcement, forcing drivers to obey the crosswalk law, as pedestrians have the right-of-way in crosswalks.

"My job as a daycare provider is to take care of the kids. If that means stopping traffic, I will," she said.

"I have instructed the children to wait on the west side of the street until I come across and walk them to my home," Hukriede added.

Hukriede doesn't see why drivers have to be in such a hurry and can't slow down to wait for people crossing the street. "It only takes a couple of seconds," she said.

Hukriede doesn't feel her stopping traffic in front of her house is the best solution, but it is the only solution for now. While she is out in front of her house guiding the children across the street, the other children wait for her in the house.

Hukriede is not alone in wanting better awareness of the crosswalks. Tired of dodging cars while crossing Highway 23, members of Grace United Methodist Church staged a protest last year to get vehicles to observe the crosswalk in front of their church. Now the church has signs to place in the crosswalk, making the crosswalks more visible to passing motorists.

According to the Minnesota Safety Council, Minnesota averages 1,400 pedestrian injuries and 50 fatalities per year from motorists not stopping for pedestrians in crosswalks.

While pedestrians have had the right-of-way in the crosswalks for some time, a new law, effective Friday, Sept. 1, gives pedestrians protection even in places where a crosswalk is not marked. Crosswalks are usually identified in high-use areas, normally with paint. But the new law says a crosswalk exists at any intersection where a sidewalk connects to another sidewalk, whether the crosswalk is marked or not.

Still, pedestrians need to use common sense when crossing. Obviously, vehicles cannot stop immediately, so if a vehicle is approaching, pedestrians need to wait until the traffic is clear.

Paynesville Police Officer Bruce Elfering said motorists should slow down when they see pedestrians at an intersection, whether there is a marked crosswalk or not. By slowing down, motorists will be better able to stop or react if a pedestrian enters the crosswalk.

Failing to stop for a pedestrian in a crosswalk is a misdemeanor, punishable by up to 90 days in jail, a $700 fine, or both.

Another aspect of the new law benefits motorists. Now, a vehicle that is stopped at a crosswalk can proceed once the pedestrian has completely crossed the lane in front of the vehicle.

Elfering said the police department gets very few complaints about crosswalk violations. They have only received complaints at two crosswalks: by the Grace United Methodist Church on Highway 23 and on Lake Street by the Hukriede home.

According to Ron Mergen, public works director, the only crosswalks in Paynesville that are marked are at intersections of major traffic routes. Crosswalks marked are in the downtown business district, by the elementary school, in front of the Grace United Methodist Church, and across Highway 124 by the Hukriedes.

The crosswalks are given a fresh coat of paint once a year. "We have had requests to paint more, but where do you stop and draw the line?" Mergen asked. Hukriede doesn't feel the painted crosswalk on Highway 124 is enough. She would like to see a flashing traffic sign at the intersection to alert motorists. She said the busiest time of day is between 3 and 5:30 p.m.

Another portion of the new law allows small cities like Paynesville to put signals for crosswalks, but there are no plans to do so at this time.
---