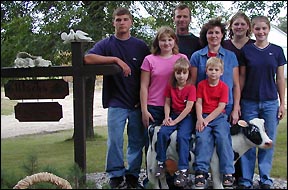 Ken and Shirley Utsch are the fifth generation to live on a farming homestead five miles west of St. Martin. The farm was settled by Balthes and Anna Maria Rausch in 1897 and was declared a Century Farm by the Stearns History Museum this summer.

Born in Germany, Balthes and Anna Maria Rausch (married Feb. 9, 1855, in Germany) lived in several states before settling in Minnesota.

Their daughter, Ottilia, married a German immigrant, Gustav Utsch, on Nov. 11,1883. The couple inherited 80 acres on their wedding day. They sold the farm to their son, Joseph, in 1940.

In 1948, Gene Utsch purchased the farm from his dad, Joseph. Gene erected several of the present buildings on the place. The barn on the farm place was struck by lightning in 1954 and burned down. A new barn was erected south of the house.

The pioneer home stood west of the present house, which was built in 1967.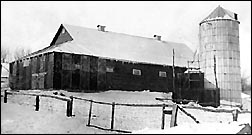 The farm used to have lots of trees, Gene said. Two storms - in 1972 and 1983 - knocked down 75 percent of the trees on the place, he estimated.
In 1982, Ken bought the farm from Gene, his father.
According to Ken, his ancestors were more diversified raising pigs, chickens, and cows. At one time, the farm had 12 horses to do the field work. The farm also had its own blacksmith shop.
Gene recalls milking 44 cows by hand, as a young man.
Today, the farm consists of 213 acres. Ken raises mostly corn, oats, and alfalfa. He milks 54 cows with a pipeline system.
Unlike his ancestors who raised a variety of animals, he raises only cows and has another job off the farm. "A little of everything doesn't work anymore," Ken said.
Ken and Shirley have six children, ranging in age from four to 20. They all have their assigned chores on the farm. Kristi, 14, is responsible for feeding the calves; Stacy, 12, helps with the milking; and Brad, 4, helps Dale, 18, feed the cows.
Ken, who works off the farm as an electrician, receives help from his dad and wife, Shirley, with the field work and chores.
Ken plans on selling the cows but keeping the farm. He hasn't decided if he will continue working the land or rent it out.
---
Contact the author at paypress@lkdllink.net • Return to News Menu
Home | Marketplace | Community
---