Nearly seven months after he was murdered in Boston, the words of Michael Lenz live on.

Lenz, a 1994 graduate of PAHS and a first-year graduate student in the American Studies Graduate Program at the University of Massachusetts who was shot in his Boston apartment in March 2001, was a poet who had completed a first book of poems. Lenz was putting together hard cover copies of Sympathetic Stone Age by hand.

Now the task of putting together copies of the book falls to his parents - Robert and Kathy Lenz of Paynesville. "If he can do it, we can do it, too," said Kathy.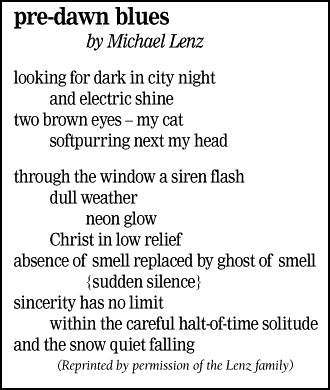 They want to share his words with as many people as possible. "It was going to be published, and we just want to make sure that it does," she explained.
Eventually, copies of the book may be available at retail outlets in town. Until then, requests for the book can be sent to the Press, which will forward them to his parents.
Copies of the book will be available at a 25-hour continuous experimental musical event dedicated to Michael Lenz this weekend in Duluth. The elegy, at the NorShor Theatre in Duluth, begins on Friday night at 9 p.m. and continues until 10 p.m. on Saturday.
To get to the NorShor Theatre, take the Lake Avenue exit from Interstate 35 and make a left turn to go north on Lake Avenue. Take the first right onto Superior Street and the theatre is two and a half blocks further on the left side of the street.
The event will also be webcast live at www.elegy25.com.
Proceeds from the event will go to the Michael R. Lenz Creative Writing Scholarship at the University of Minnesota-Duluth, where Lenz did his undergraduate study.
The Graduate Student Assembly at the University of Massachusetts has also established the Michael Lenz Graduate Research Award. This award will recognize excellence in nontraditional research. (Lenz, who was interested in popular culture, planned to do his master's thesis on the independent music scene.)
Lenz wrote enough poems for another poetry book, and a college friend of his is laying out pages for that book, his parents said.
Lenz's poems have already helped his parents better understand their son. "We had no idea how well he wrote until...," said Kathy, her sentence ending in silence.
"We knew the kid," continued Rob. "He went to Duluth. He went to Boston. We're just getting to know the young man."
Rob and Kathy are still coming to grips with their son's murder and the tragedy that has struck their family. "Michael was such a nonviolent person," explained Kathy. "He did a lot of dangerous things, but he was just sleeping in his bed."
Lenz had driven alone along the west coast of the United States all the way to the Yucatan Peninsula in Mexico. He also had traveled through Russia.
These trips became the subject of many of his poems. "He wrote a lot of his poems on the road," said Kathy.
Rob and Kathy are scheduled to go to Boston in October to attend the trial of the man accused of murdering their son.
---
Contact the author at paypress@lkdllink.net • Return to News Menu
Home | Marketplace | Community
---