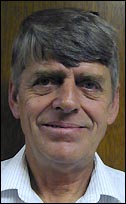 After working with the post office for 24 years - including 18 years in Paynesville - Bob Duscher retired at the beginning of September.

"It was the best job I ever held," said Duscher, who lives between Hawick and Regal. "I never minded coming to work. I'd make an attempt to say good morning to everyone I met."

Duscher said he got to know a lot of people along his city mail route. He walked a route for 14 years before being promoted to an inside position at the post office.

A big change, according to Duscher, was the increase in people living in the community. During his time at the post office, another rural route was added. Today there are six routes - two city and four rural. "Every year we see a one to two percent increase in homes," he said.

Another big change is in the area of automation, Duscher said. Mail now arrives in Paynesville from a bulk station in Waite Park. When Duscher started, they sorted 26 feet - 5,590 letters - of first class mail locally. Today they sort only 14 feet - 3,010 letters. The automatic sorting machine in Waite Park can sort 30,000 pieces of mail per hour. "Most of the mail is bulk business mail. You don't see as many letters. Only the older people still write letters," Duscher said.

Duscher won't miss his day starting at 6 a.m. A normal work week in the office was from 6 a.m. to 5 p.m., six days a week. When he walked the routes, he was usually done at noon.

The Paynesville carriers always delivered the mail, no matter what the weather was, Duscher said. The only time the mail wasn't delivered was when it didn't arrive from Waite Park. "If there was mail, we delivered it," he said.

In his retirement, Duscher is attending to his five-acre garden.
---
Contact the author at paypress@lkdllink.net • Return to News Menu
Home | Marketplace | Community
---