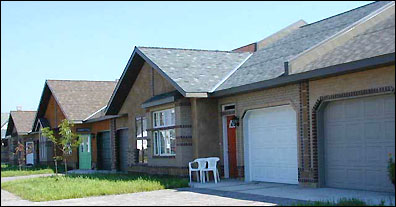 Cal Davidson had the classic old rowhouses found in Chicago and New York City in mind as he drew up the plans to develop an empty lot at the corner of Lake Avenue and James Street in downtown Paynesville. His nearly completed eight-unit rental townhouses were built on a corner lot that had sat empty since the old Koronis Mill was demolished five years ago.

Noting the reasons for the unusual style and location of the Lake Avenue rowhouses, Davidson, the owner and builder, said, "There's a need for middle to high-end rentals that are bigger, nicer, unique."

Davidson, also an art teacher at Paynesville Area Middle School, bought the property with the intent of developing rental spaces with distinct aesthetics and with convenient access to downtown. "It's a good place for anyone wanting to be close to downtown," he said, "without the fuss of a yard."

The proximity of the new rowhouses was a leading factor for both Gloria Ringstad, who is moving in, and Audrey Bergstrom, who has already moved in, in deciding to rent a unit in the new complex.

Though not in the market for a new rental home, the comfort and convenience of the rowhouses were reasons for Ringstad to decide to move. She was encouraged by her son to have a look at the new units. He wanted to be sure that she found a nice place closer to everything in town. After driving downtown from her duplex near the hospital at least once a day, she anticipates being more inclined to just walk for her daily errands. "I'm moving from the suburbs to downtown," she joked.

Bergstrom moved into her corner townhouse at the end of July. Because she no longer drives, she needed a ride just to look at the new rowhouses. She makes good use of being downtown, dining and shopping now without relying on anyone to drive her.

"Everyone thought it was so unusual," said Bergstrom of her decision to leave her home for a rental unit, "but it was ideal for me."

Both Ringstad and Bergstrom were quick to point out that the rowhouses are not a place just for seniors, as a newlywed couple and a family with children are also among the tenants.

There are four two-bedroom units and four one-bedroom units in the new rowhouses, all rented prior to completion, which is expected to be finalized by the end of October.

Keeping business local was an important factor for Davidson. "There's one thing you should know. All the labor done here is local," he stated. "I believe very strongly you should be involved in your town. There's so much talent here it'd be a shame to waste it."

While hard at work tiling with his father, Davidson pointed out that the trim work and custom-made cabinetry are homegrown from red pine.

Each unit has features that make it stand out from its neighbors. Tenants were able to choose their carpet, tile, and countertops. Each townhouse has windows, doors, roofs, and facades within the same rowhouse theme, but maintain individual shapes, sizes, and colors.

When asked about the seemingly incongruous style, Cal shrugged, "I hate boxes. These are eight tiny houses side by side."

The units are also handicapped-accessible with wide doorways and no stairways or threshholds to navigate and each has an attached garage.

Sharing his view, Ringstad smiled at her nearly completed two-bedroom townhouse, saying, "They're all unique, every one of them."
---
Contact the author at editor@paynesvillepress.com • Return to News Menu
Home | Marketplace | Community
---