A new device - the Vasclip, now available at the Paynesville Area Health Care System - gives patients a less invasive alternative to a traditional vasectomy.

A traditional vasectomy requires making a small incision or poking a small hole in the scrotum, pulling a couple centimeters of the vas deferens, cutting the vas deferens, and cauterizing both ends. Using the Vasclip still requires making a small incision or poking a hole and exposing the vas deferens, but less of the vas deferens needs to be exposed to put the Vasclip in place.

The procedure with the Vasclip requires less cutting, has less bleeding, and causes less tissue damage to the testicles, meaning there is less swelling afterwards, less pain, and quicker recovery, the doctors agree. "It simplifies the procedure immensely," said Dr. Solum.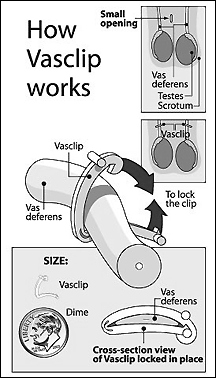 The only drawback about the new procedure is the cost, since the Vasclip costs $400. "If it were the same cost, every guy would have this," said Dr. Malling.
Since insurance may or may not pay for it, patients must pay for the Vasclip up front, and then will be reimburse if insurance pays for it.
That cost, the doctors said, can be offset by the quicker recovery time. The optimum time to perform a regular vasectomy is Friday afternoon, so the patient has all weekend (two days) to recover.
With the less-invasive Vasclip, patients can be ready to go back to work the next day. Minimizing any lost time at work can offset the higher cost for the Vasclip itself, the doctors said.
This is really attractive for men who can't miss a couple days of work for a vasectomy, said Dr. Strate. The Vasclip's infertility rate is 97.5 percent, according to a company brochure. "These same type of clips have been used for blood vessels for years, and they've shown no signs of slipping," said Dr. Malling.
The Vasclip is also, like a vasectomy, deemed nonreversible, as no evidence exists to show otherwise. But long-term studies of the Vasclip have yet to be done, and the local doctors think that, at least in theory, the Vasclip might be less forever than a vasectomy.
A vasectomy is an elective procedure, so all three doctors make sure that the patient's social situation is right before performing one. They look for a settled family situation and agreement from the spouse before performing a vasectomy.
The schedule for the Vasclip is the same as for a vasectomy. First, a patient needs to see a doctor in the clinic, with his spouse, too. Then the procedure is scheduled (with a 30-day wait for Medicare patients).
Patients need to come back to the clinic only with complications, but they must have a semen analysis after six weeks to insure that the procedure was successful and that they are sterile.
The local doctors send unusual vasectomy cases to a urology specialist.
---
Contact the author at editor@paynesvillepress.com • Return to News Menu
Home | Marketplace | Community
---