Lichy is the new liaison officer at school
This article submitted by Erin Aagesen on 9/15/99.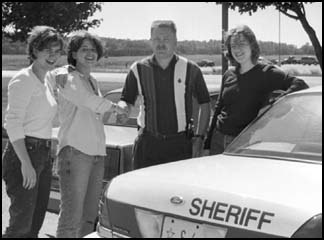 A new face can be seen in the halls of Paynesville's schools. Officer Joe Lichy replaced Lynn Jensen, who went to work at Holdingford and Melrose, as the school's liaison officer.

Greeting the new liaison officer at PHS is Bridget Mueller, Anne Janotta, and Tricia Hemmesch.

Lichy will be spending two to three days a week in the school. He hopes to fulfil three roles–those of police officer, counselor, and teacher. "So many students see law enforcement as a negative thing," he stressed. "I want them to become comfortable with it."

His duties vary from organizing the local DARE program to actually teaching in the classroom. He says the best part about working in schools is "getting into the true role of law enforcement. [As law enforcers], we get to know people and become more involved with the community."

According to Lichy, the concept of liaison officers is not new, nor is it uncommon. As early as 1950, there have been law enforcement officers in schools. Since then, many school disticts have applied for federal grants which make it financially easier for schools to provide this service. Five districts in Stearns County already have it. More are currently looking into it.

Officer Lichy formerly worked in the Melrose School District, but now works only in Kimball and Paynesville. His work in schools is in addition to his main duties as a patrol officer. He enjoys his job because, "it is never the same. In most jobs, you are doing the same thing everyday. Law enforcement isn't like that. When I come in the morning, I have no idea what I'll be doing that day. I could just be writing out traffic violations all day, or it could be the busy day."

A 1979 graduate of Foley High School, Lichy always knew he wanted to go into law enforcement. However, he did not go directly into that career. He began working as a diesel mechanic for six years. Because he saw that the agricultural community was not prospering, he decided he needed a change. He went to Willmar Community College and earned a degree in criminal justice. Since then, he has worked in the Stearns County prison and in his current position of patrol officer.
---