Beeks sell John Deere dealership
This article submitted by Linda Stelling on 9/15/99.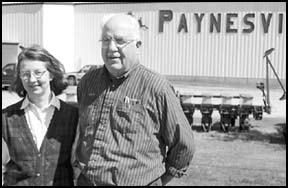 Harlan and Mary Beek, Paynesville, have sold the John Deere dealership effective Aug. 30, 1999.

The Beeks moved to Paynesville in 1968 and rented the John Deere dealer-ship. In 1971, Beeks purchased the dealership. It consisted of one building situated on two and a half acres along Highway 124.

Today, the site has increased in size to more than 10 acres and has several storage buildings in addition to the main sales office. In 1979, the land where John Deere is located was annexed into the city to obtain sewer and water services.

Beek said his dealership has served customers from as far away as Holdingford, Pierz, Hector, and Sunburg.

"We have five dealerships within a short distance which makes for strong competition," Beek said. "The farm industry is in a state of change which is affecting many dealers and co-ops throughout the state," Beek added.

Beek started in the machinery business 38 years ago. An Iowa farm boy and the oldest in the family, Beek said it was his responsibility to do the field work and make repairs on the farm machinery.

After graduation from high school, he spent a year at Bethel College, then transferred to Iowa State College and earned a degree in agricultural engineering with a specialty in farm machinery. Beek served in the Army in the early 1960s in the infantry aviation division. Upon his discharge, he worked for the John Deere company teaching service schools at dealerships in a five-state area.

Beek said the sale of Paynesville Implement came about after a two-year litigation with John Deere. An agreement was reached where his ag contract for new equipment was terminated on May 31, 1999.

"I had a long standing dispute with John Deere which started in 1992 over assigned market areas. The dispute was never resolved," Beek added.

Beek still had his lawn equipment contract and used equipment contract.

"At that point we had a decision to make," Beek said. "Mary and I discussed our options and decided to sell the dealership."

Curt Weber, owner of Glenwood Equipment, Inc., purchased the dealership from the Beeks. He purchased all the new inventory at the dealership and is leasing the building site and the front five acres.

Richard Ramthun and Wally Dropps will continue to work with Beek to sell the used equipment from the back five acres of property.

Harlan said within two years he will be pretty well out of business.

Mary Beek has worked as a bookkeeper since 1990 at the dealership. She will continue to work for Glenwood Equipment during the transition period.
---