Dillon founded Cyrilla Beach Homes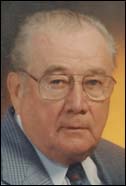 Frank Dillon, who started Cyrilla Beach Homes in his retirement and developed a 120-acre development on Rice Lake bearing the same name, died on Monday, Sept. 6, at the age of 82.

Dillon, who was born in Manannah Township, went to work at a Piggly Wiggly store in Faribault at the age 17, joining his brother at the business. After a three-year stint in the navy during World War II - during which he earned a Purple Heart while serving in the Pacific - he and his brother and two partners purchased 13 Piggly Wiggly stores. When he retired in 1972, he was president of the company, and he and his brother owned 35 stores.

He and his wife, Cyrilla, a native of Lake Henry, retired to Rice Lake in 1972. Dillon purchased a 120-acre parcel on Rice Lake for $5,000 and named his development, Cyrilla Beach Point, after his wife.

He began selling mobile homes with lots on his Rice Lake development. In 1973, he moved the business to Highway 55 just east of Paynesville.

His goal, he told the Press in 1989, was to keep busy and run the business as a hobby, maybe selling five mobile homes in a year doing $100,000 in business. By 1989, Cyrilla Beach Homes was doing $3 million per year in business, he told the Press.

His son, Dick, sold Cyrilla Beach Homes, effective Jan. 1, 2004.

Frank Dillon was preceeded in death by his wife, who died in 1998. He is survived by four children, six grandchildren, and eight great-grandchildren.


Noren helped start Paynesville Greenhouse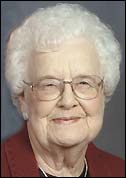 Evelyn Noren, who started the Paynesville Greenhouse in 1952 with her husband Melvin and operated the local business for 28 years, died last week at the age of 81.
Noren, originally from Chisago City, married Melvin in October 1941. In 1950 and 1951, he worked in Willmar at a greenhouse. They purchased two acres on the east side of Paynesville in 1952 and started their own greenhouse.
Before settling in Paynesville, the Norens had spent many Sundays driving to area towns looking for a place to start their own business. When they visited Paynesville, coming to town along Highway 23, the view from the golf course hill convinced them to choose Paynesville.
"As we came over the hill by the golf course, we both said, 'This looks like home,' " Noren told the Press in 1994.
Despite some accidents - an eight-inch rain flooded their greenhouse in 1953, a hail storm broke 99 percent of the glass in the greenhouse in 1962, and a fire damaged their business in 1971 - the Norens operated the Paynesville Greenhouse until retiring in 1980.
Evelyn and Melvin Noren were chosen as grand marshals of the Town and Country Days parade in 1994. They were never sorry for choosing Paynesville, they told the Press in 1994, thankful for their friends, the good schools, beautiful churches, variety of nice businesses, good health care, beautiful tourist attractions, and strong agriculture.
Noren is survived by her husband, three children, four grandchildren, and two great-grandchildren.

Putzke started bus, excavating businesses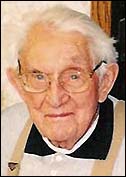 Harold Putzke, who founded two local businesses still in existence today, died on Monday, Sept. 6, at the age of 88.
Putzke, who grew up on a farm south of Rice Lake, started the Paynesville Motor and Transfer Company in 1938 with two pieces of equipment: a dump truck and a shovel. Having hauled livestock previously, he used those two tools to haul gravel.
His first office in 1940 was located on the west end of James Street, where Paynesville SuperValu currently stands. In 1947, he bought three school buses and added that aspect to his business. A Buick dealership followed shortly, though he eventually discontinued that.
He sold his excavating equipment and business to his employee Mel Jones in 1975. Jones renamed that business Paynesville Excavating.
Putzke's son, Dwight, took over Paynesville Motor and Transfer Company.
The business continues to operate school buses.
In retirement, Harold spent many summers in Homer, Alaska, fishing for halibut, salmon, king crab, and shrimp and hunting big game. He would drive his mobile home, a remodeled bus, 4,000 miles to Alaska each summer.
Harold also built the fish pond along Co. Rd. 181 in Paynesville Township, which was used for fishing excursions for youth groups, Boy and Girl Scout troops, and school classes.
Putzke also served in various civic capacities, including helping to found the Koronis Lake Association in 1971 and serving on the Paynesville City Council and on the hospital board in the 1980s.
He was preceeded in death by his wife, Marian. They were married for 63 years before she died in May 2003. He is survived by two sons, four grandchildren, and four great-grandchildren.

Ridler owned hardware store for 23 years
Louise Ridler, who owned the Hardware Hank Store in Paynes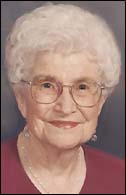 ville for 23 years, died on Sunday, Sept. 5, at the age of 91.
Louise, a native of Osakis, married Joe Ridler in November 1931. He had worked at a hardware store in Wabasso for 12 years before getting married and proceeded to work at a hardware store in Osakis for 11 years and for Sears Roebuck in Rochester for 12 years.
The Ridlers moved to Paynesville in 1954 and owned and operated Ridler's Hardware Hank Store on James Street until retiring in 1977.
The Hardware Hank building was destroyed by fire in 1985. The building, according to Press records, was probably moved to New Paynesville from North Town in the 1910s. Zapf Leather and Western Goods operated a harness shop in the building from 1915 to 1940, and the building was used as a bowling alley before being turned into a hardware store.
After the fire, the building was taken down, and the Paynesville Lions Club built public bathrooms on the lot in 1986.
Louise Ridler was a founding member of the local Daughters of Isabella chapter in 1969. She was active in that organization - including serving on the state level - for more than 30 years.
Joe and Louise Ridler served as grand marshals of the Town and Country Days parade in 1982.
Joe Ridler died in November 1991. Louise Ridler is survived by four children, 11 grandchildren, 19 great-grandchildren, and three great-great-grandchildren.
Full obituaries can be found in September 2004 obits.
---
Contact the author at editor@paynesvillepress.com • Return to News Menu
Home | Marketplace | Community
---