The other day, during a thunder storm, Bruce Simpson overheard someone say the Minnesota weather was "like a hurricane." The transplanted Mississippian - now staying with his family at his parent's house on Rice Lake - quickly corrected that description. "Nothing like it," said Bruce.

Bruce and his wife Vicki came to Minnesota on Sunday, Aug. 21, and expected to return to their home in Biloxi, Miss., on Wednesday, Aug. 31. Hurricane Katrina, though, hit the gulf coast on Sunday, Aug. 28, made landfall on Monday, Aug. 29, and wrecked devastation on Louisiana, Mississippi, and Alabama.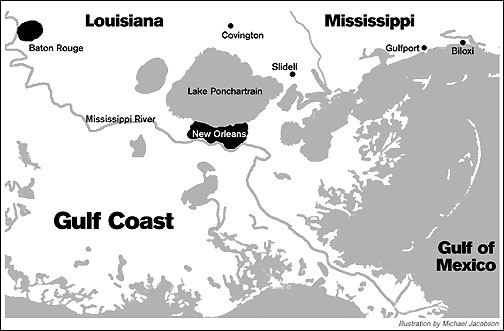 Bruce and Vicki's son Matt stayed in Biloxi during the hurricane. His wife Melissa had to close at work at 12 noon on Sunday, Aug. 28, and didn't get out until 1 p.m., so they had no chance to evacuate. Melissa is from northern Mississippi, so normally they would have driven there, but they could have been on the road when the hurricane hit, so they stayed in Biloxi, explained Matt.
Biloxi and the gulf coast of Mississippi suffered a direct hit from Hurricane Katrina, said Matt. It was worse than Hurricane Camille, a Category V storm that hit in 1969, because Katrina was so much bigger it damaged the area for much longer, even if it was slightly less intense, said Matt. (Katrina was a Category IV hurricane when it made landfall.)
Matt, Melissa, and their three-year-old son stayed through the storm at a friend's house in Biloxi. With no power, no water, and little food, they soon decided to head to Minnesota, too. "It was just easier to get out of there than to be a tax on the local resources," said Matt.
After the storm passed, they spent Tuesday, Aug. 30, in Biloxi and then headed north that evening and arrived in Paynesville on Thursday, Sept. 1. They all are staying with Bruce's parents, Howard and June Simpson, who have owned a cabin on Rice Lake for years and have lived there full time since 1984.
"The pictures cannot begin to show the devastation when you see it with your own eyes," said Matt.
After the storm, Matt tried to get to the family's trailer, located seven or eight miles from the gulf, but he could not reach it because the trailer park was flooded from a river. Then he crossed a bridge over the gulf and drove down the Biloxi strip (a drive that normally takes 15 minutes but took him three hours).
Biloxi, located 90 miles east of New Orleans, has 26 miles of sand beach with the main part of the city perched on a peninsula in the Gulf of Mexico. Casinos opened on barges in the Gulf of Mexico, prompting Bruce and Vicki Simpson to leave their jobs at Treasure Island Casino in Minnesota for warmer climes.
Hurricane Katrina had caused a 20-foot storm surge of water plus waves of 15 feet, said Matt. That water moved a three-story, 300-foot casino barge across the highway, setting it down a mile away in a parking lot.
The casino barges are monstrous, said Vicki, so you know the storm is powerful when it moves them.
"You can hear about it, but until you see it with your own eyes you can't understand the magnitude of destruction," said Matt. "It's just sheer destruction."
Bruce and Vicki have lived been through one previous hurricane in Mississippi in 1998. "Everything else we've gotten a little wind or rain out of but nothing serious," said Bruce.
They have evacuated several times for hurricane warnings, but most hurricanes, despite initial warnings, peel back into the Atlantic Ocean, said Bruce and Vicki, so normally residents don't pay too much attention.
"This one did a number down there," said Bruce.
Right now, the Simpsons are in limbo. They are trying to arrange aid, but they are being told that to get aid they must be in Mississippi. "It doesn't make sense for us to drive 1,500 miles for them to tell us we can't live there," said Vicki.
Their landlord has confirmed that their trailer is unhabitable, but they have had trouble securing aid. Their friends tell them that the gulf coast has electricity for less than half the time.
They are working with Sen. Trent Lott's office to get help from the Federal Emergency Management Agency without Bruce and Matt having to drive back to Mississippi. "With the price of gas, it doesn't make sense to us," said Vicki.
Eventually, they will have to go to Mississippi, at least to get whatever stuff is salvageable, said Matt.
Their trailer full of clothes and possessions is likely destroyed by the flooding. "Everything is gone," said Vicki.
The Simpsons also will need to decide whether to go back to Mississippi or to relocate back to Minnesota. This decision will depend on their jobs, said Vicki, and right now that is in flux, too. The only workable hotel in Biloxi is being used as a FEMA base now, and all the casinos are damaged. It would take at least 18 months to replace the slot machines, said Vicki, and there'd still be no place for gamblers to stay until the hotels are rebuilt. On the other hand, they don't want to take jobs in Minnesota before they get their affairs in order in Mississippi.
Vicki doesn't like snow, which is why she wanted to move south. But now she might be willing to live with snow again.
"I said I'd rather live with a foot of snow (than have hurricanes)," said June.
---
Contact the author at editor@paynesvillepress.com • Return to News Menu
Home | Marketplace | Community
---